Did you know that you can spice up your Instagram posts even more starting today?
In today's article, we will go through a few actionable tips and hacks to save you valuable time while still being able to create great quality content for your Instagram account.
Although it's really clear that building an audience is crucial when it comes to your business' growth on Instagram, we cannot stress enough that you should constantly engage your audience with various interesting posts on Instagram. You should also be able to gain your audience's trust and introduce your brand in an engaging way. 
We have prepared a few Instagram strategies to help your business grow by engaging your audience the right way.
The first and most important piece of advice we have for you is to always try to use high-quality images as well as eye-catching designs, useful infographics, and intriguing captions for your stories, feeds and reels.
Instagram Feed Captions
When you create a post on Instagram, there are only 125 characters out of your maximum of 2,200 that are being displayed. This means that you should ensure your visible characters are attractive enough for your audience to press the 'More' button and keep on reading. 
Consider inserting empty rows when you write longer posts. Another point to take into account is to give your readers some space, especially when writing a long caption. You can do so by inserting empty rows when within your text. This is a good way to keep your reader's eye on point. 
Use of different fonts
In order to grab your reader's attention make sure to test using different fonts whether both italic or any sort of other stylized fonts. 
In order to be able to use different fonts however you will need a tool such as boldtext.io.
Make use of Instagram highlight stories
You probably already know that Instagram stories are quite a good tool to elevate your business and sales. 
You can create really nice looking and engaging covers for your highlights and you can accommodate up to 100 stories in each highlight feature.
Here are some hacks to help your stories perform better:
Make use of different stickers and hashtags ;

Include locations in your Instagram stories;

Use polls and countdowns;

Test out Instagram lives; 
Another great hack is to create a content schedule for your stories. This will help you build consistency which in its turn will get your followers to expect your stories on this specific time of the day. This works quite well if your aim is to keep your Insta following engaged.
Instagram Reels and Guides
Instagram Reels and guides became really popular in late 2020. Reels are really similar to TikTok Video formats – an engaging, short video which is exactly what you may need to take advantage of in order to make your content even better. 
Instagram Guides are another great way to promote specific posts connected to a specific topic. This is a great way for you to communicate your brand's product launches for example. You could also get an influencer to promote your products for you.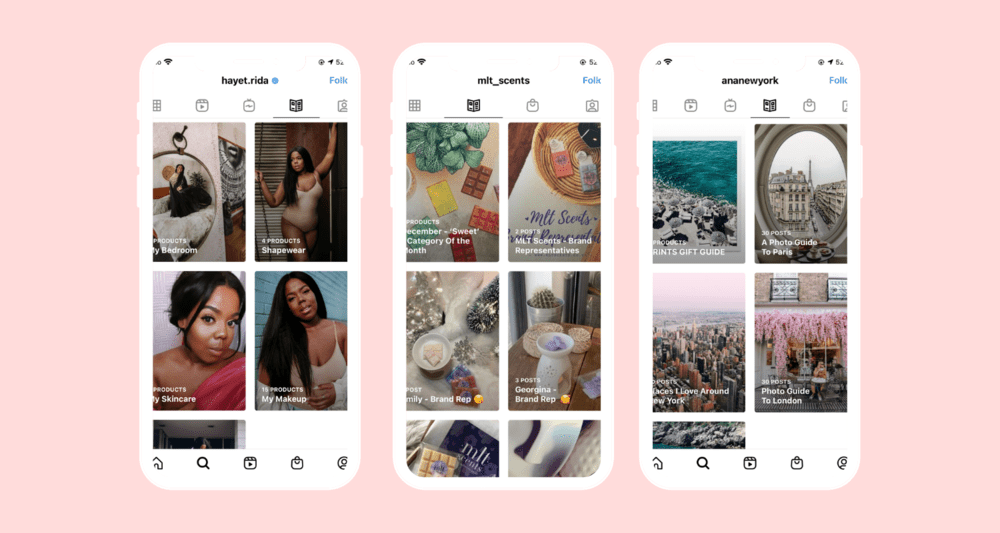 (image source: Stopmotion App) 
Instagram Guides are becoming widely available for all users in the US, UK, Canada, Ireland, Australia, and New Zealand. They are expected to be shared with the rest of the world soon as well.
Get Inspired
Have you ever felt like you don't quite know what to post or where to start from?
Don't worry if you did – we understand. What you can do to stop having such "brain – freeze" moments is to find inspiration from others in your field – even your competitors. Researching others in your niche will help you see what their audience finds interesting, what topics they post and what you can do to post even more engaging content on Instagram. Please note however that getting inspired does not mean copying what others do as this will inevitably damage your brand – just simply do your research and create your own content. 
Implementing these Instagram hacks will help you gather more ideas of how to create engaging content and grow your brand further. It is really important to test and be as creative as possible when you try to capture your audience's attention.
Don't forget that all your other competitors are trying to do exactly the same, just be better. 
If you find this article useful, you may also find it helpful to know the most recent Social Media Posting Trends.