🏖 Summer 2021 is already here! 🏖 If you are sitting on the beach, or simply dreaming about it,  wondering how to be in line with the most recent social media posting trends, then this article is for you.
With the growing demand and competition, there is a significant "content overload on social media" which makes reaching the right target consumer a little challenging.

Worry not! We have prepared three of the most important social media posting and platform trends to help you improve your overall social posting strategy and make you stand out in the crowd. 
1⃣ Ephemeral Content For The Win
Ephemeral content is social media content that is only accessible temporarily, it usually lasts about 24 hours before it disappears forever. Sounds familiar? Yes, you got it right – we are talking about stories.
The graph below shows the substantial rise in Instagram Stories' daily active users: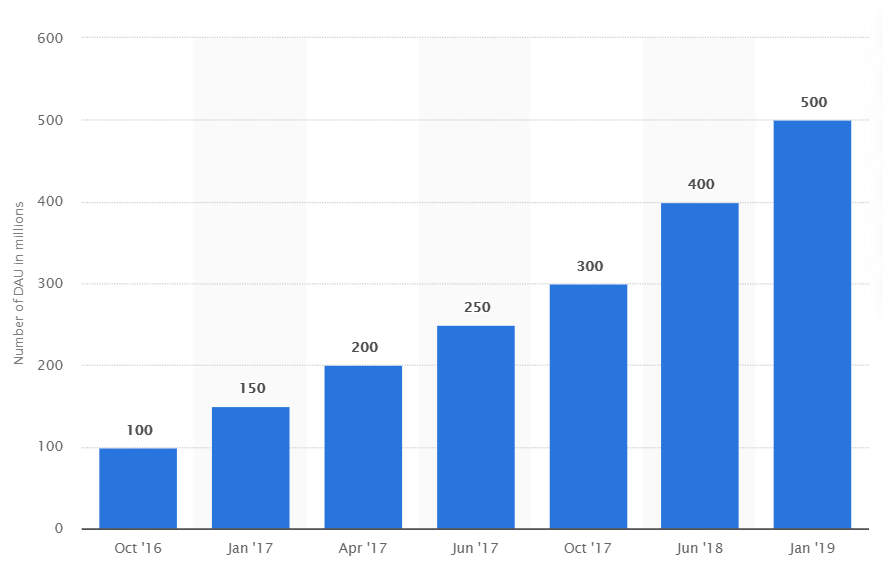 (image source Statista)
Nowadays, due to the huge competition, people's attention spans are short. Furthermore, the way we all like to consume content has also changed. Attention-grabbing in the first 5 seconds is crucial, which is why content formats like Stories have become so popular.
Why are they so well-liked though? This is very simple – Social media stories are short, engaging, and show what your brand, service or product is all about in a very creative way.  
Here are a few tips to keep in mind when creating your brand's stories
:
👉 Ensure you produce good quality creative elements with high-resolution assets (videos, static images); 
👉 Offer quick & dynamic content. This is proven to be one of the most effective ways to sustain your viewers' attention;
👉 Try to split your social media stories into smaller sequences, instead of presenting one continuous shot;
👉 Ensure that you are using the correct ratio – social media stories are best "told" in a vertical/ portrait orientation. 
👉 Do not overpopulate your stories with lots of stickers and other distracting elements – make sure you have a clear message for your target audience; 
👉 Have a clear call to action. This is one of the most important elements in your story – it needs to be clear and tell your audience exactly what you need them to do; 
👉 Test, test, test – testing different approaches until you find the best one for your brand, based on what your target audience is responding to the most is the key to a successful social media story post;
2⃣ Video Content
Does your business take advantage of video content? We hope you are, but it's never too late to jump on the social media video content train and include it in your content strategy. Some people are still not convinced that videos are right for them, but we have outlined a few points as to why you need to add this type of content to your social media posting strategy.
The use of videos as part of your content strategy and social media posting is key to make your brand stand out from the crowd. In recent years we see that video content gains a lot of popularity as it does say and show a lot more than a static image. Videos are great, engaging and come in many shapes and sizes. One can choose from short-form videos like those popular on social media platforms like TikTok, Instagram Reels and Stories or long-form content on YouTube and IGTV. We believe that videos are the future of social media content and undoubtedly one of the biggest social media trends in recent years.
According to a study conducted by Cisco, 82% of all social and even the whole online content will be video content, by 2022. Social media video posts will become more and more popular.

How to start making good video content?
You can start by using features like Facebook or Instagram Stories for your social media content. Add videos to your social media posts, even on platforms traditionally dominated by image or text content, like for example LinkedIn and even Twitter. Here are a few tips that will help your videos stand out: 
👉 Know exactly why you are creating the video – have a set purpose (i.e. are you creating a brand awareness video or is it supposed to serve a sales purpose); 
👉 Investigate your audience's pain points and address them in your video by providing an effective solution to deal with them;
👉 Where possible incorporate Client Testimonials; 
👉 Ensure your video is of good quality; 
👉 Avoid making the video all about you – instead, show your potential customers why they should choose you over the competitors; 
👉 Have a clear message and a Call-to-action (CTA) – this is the key to a successful video;
3⃣ Live Audio
As we all already know Social media is expanding with every minute and new trends are emerging regularly. We will talk about one of the latest trends in social media – live audio. Live audio became extremely popular when Clubhouse first came on the market. It is a way of more personalised social networking.
Now, you may feel like Clubhouse and Live audio are not right for your business but it is worth a try, especially after Facebook is creating the same feature.

Here is how live audio content can help your business grow:  
👉 You can organically develop an engaged community;
👉  Make company announcements: you can easily connect an audience with a brand by using live audio content as a way to release your audio press releases. Platforms like clubhouse can work extremely well when announcing upcoming launches and even asking for pre-launch feedback.
These are just three of the recent social media trends that will dominate the online space during Summer 2021. Use these trends to your advantage, do your research and stay ahead of your competitors. In the meantime, you may also want to ensure you are doing your social posting at the best possible times of day – check out our Social Media Posting Cheat Sheet designed to make your life easier.
Keep an eye out for more useful topics in this space – we have a lot more of them coming, to help you ace your social media posting, advertising and strategising game. 
Stay tuned for part 2!