[fullwidth background_color="" background_image="" background_parallax="none" enable_mobile="no" parallax_speed="0.3″ background_repeat="no-repeat" background_position="left top" video_url="" video_aspect_ratio="16:9″ video_webm="" video_mp4="" video_ogv="" video_preview_image="" overlay_color="" overlay_opacity="0.5″ video_mute="yes" video_loop="yes" fade="no" border_size="0px" border_color="" border_style="" padding_top="20″ padding_bottom="20″ padding_left="0″ padding_right="0″ hundred_percent="no" equal_height_columns="no" hide_on_mobile="no" menu_anchor="" class="" id=""][fusion_text]Collaboration with posting, whether it's supposed to be an organic post or an ad, is often necessary for teams. For instance big organisations that want their followers to get more familiar with what they're doing in the different branches. And that without having the communication or marketing division doing all the work. So giving many employers access to publish what they do will make it lot easier to get it out what's going on. But that also poses some issues.
[/fusion_text][imageframe lightbox="no" lightbox_image="" style_type="none" hover_type="none" bordercolor="" bordersize="10px" borderradius="0″ stylecolor="" align="none" link="" linktarget="_self" animation_type="0″ animation_direction="down" animation_speed="0.1″ hide_on_mobile="no" class="" id=""]

[/imageframe][fusion_text]
First off there are many people that are reluctant to post, they may be insecure. No matter the reason, if people are reluctant to post the positive effects on letting more people publish will not be as good as it could. On the other hand letting many people publish might pose a challenge controlling post frequens, the values communicated and tone of voice.
That's one of the reasons why we made the review function in 24SevenSocial. So that your whole organization effortlessly can participate in posting. Just send the post for review to the editor(s) and get comments on improvements and other comments, such as to post right away or schedule it.[/fusion_text][fusion_text]
Group actions
We always strive to make our platform better for our customers. And when several of our customers asks us to make some improvements on features, we do our best to comply. And we've got several requests on making group actions available with draft review. So we have made that possible.
So now you can handle groups of posts just as easy as if it was one. When you select a post, that's part of a group of drafts that was sent for review, you will be able to see all the drafts in the group marked in yellow and be given the possibilities to do group actions.
You can now do different group actions like send  for review, edit alle drafts, publish and delete groups of posts.
Read more about new changes and bugfixes in platform news and try out the new functions today!
[/fusion_text][imageframe lightbox="no" lightbox_image="" style_type="none" hover_type="none" bordercolor="" bordersize="10px" borderradius="0″ stylecolor="" align="none" link="" linktarget="_self" animation_type="0″ animation_direction="down" animation_speed="0.1″ hide_on_mobile="no" class="" id=""]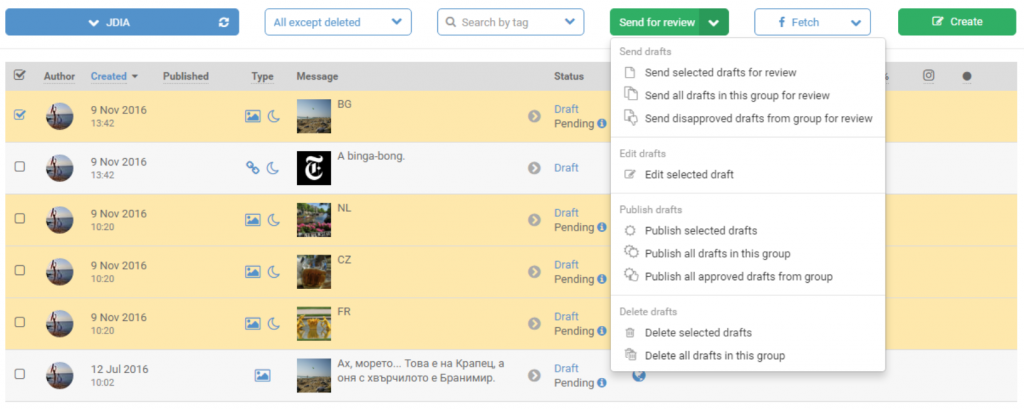 [/imageframe][fusion_text]
Available group actions 
Send drafts
Send the selected draft posts for review
Send all drafts in this group for review
Send disapproved drafts from group for review
Publish drafts
Publish selected drafts
Publish all drafts in this group
Publish all approved drafts from this group
Delete drafts
Delete selected drafts
Delete group[/fusion_text][/fullwidth]