You might have seen it. Facebook has changed the look of Facebook Pages. Again. Remember that beautiful time, long ago, when tab apps were linked from a left hand side menu? Yeah. Well, the menu's back, and it's great news! Also, the previous apps thumbnails, which displayed your three most prominent apps, have been moved from left to right – below the Review and About sections.
The new design is great for Facebook tab apps, which you can launch and manage with 24SevenSocial Creator. Christmas calendars, contests, signup forms will all be more available to users. Great news for all 24SevenSocial users, as it's likely to increase the organic traffic to your tab apps.
One of the Best in Class at Facebook activities is ecommerce giant Komplett. At Komplett.no's Facebook Page, there are several ongoing contests to engage and reward their fans. See images below.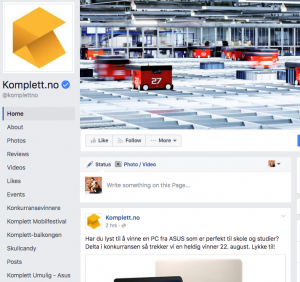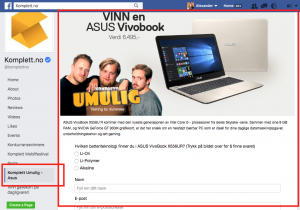 As always, Facebook's been testing the new design for some time. We (people at 24SevenSocial) first started seeing the new design (at random times, on and off) in May. Facebook's always testing, and if you look super closely, there's often something – small or big – that changes from time to time on Facebook, without this necessarily becoming a new permanent design.
Needless to say we're excited about the new design that now seems to have been rolled out globally to all Pages. It's clearly a better display of the menu items you can have on your Facebook Page. Be it a Christmas calendar, a contest, or a signup form. In addition to all the native Facebook tabs, like Photos and Videos.
Now, the menu for contest apps like the ones above, is only visible from desktop, and mobile has taken over for desktop as the main device on Facebook. But the importance of different traffic sources actually varies from Page to Page, and business to business. For 24SevenSocial the majority of traffic to Facebook.com/24SevenSocial.com, is actually from desktop. Why? Probably because we're a B2B company, meaning that more people visit our page during the daytime, at work, than – say – some entertainment brand on Facebook. Make sure you're up to speed on your own stats. And start creating some fun contests!:)