24SevenSocial Creator is great for building Facebook tab apps. You know, the contests, Christmas calendars, sign up forms, etc. that you can put on your company Facebook Page. Here is a list of the most used widgets in the 24SevenSocial Creator and a few tips on how you can use them to engage people on Facebook.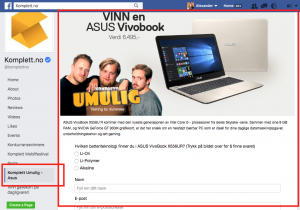 Multi Editor
The Multi Editor is basically a text and image editor similar to the ones widely used in CMS-tools, like WordPress.
More advanced users will also be able to make use of the HTML-source, add targeted links, hover-over images and embed content.
Picture
The picture widget enables you to add images to your app with just one click and add hyperlinks to external destinations.
TIP: Connect a Like button to your Image and create an auto-redirect to your app – perfect if you want users to "vote" on which prize they want the most.
Form – the data collector
This is one of the most powerful widgets in 24SevenSocial and it's perfect for those scenarios were you want to collect data from users. Be it a newsletter sign-up, or a contest entry – your data is immediately accessible including timestamps on when the entry was made.
TIP: if you run a contest/sweepstake – make sure you ALWAYS add a newsletter OPT-in and convert entries into new email subscribers.
Counter
The counter widget is an add-on functionality that is mainly connected to the form. In short it counts all entries in a form an makes you able to show this Live in your app.
Say you set up a campaign with entry variable prizes, e.g. for every 100 entries you give out another prize, you can then use the counter as a visualizer of what level that is reached and give users an incentive for sharing your campaign.
It can also be set up so it's a countdown, e.g. the 200 first that signs up to your newsletter will get an amazing exclusive offer on one of your product.

Instagram
Set up an Instagram feed either from a user (@) or a hashtag (#) displaying these realtime in your app.
Perfect for running your Instagram #tag contest and if you want to promote it on Facebook – link to the app and users can be inspired and can join in. You can also add a vote button to get some real activity in your app – a great way to get people to share their own material to get votes.
TIP: Set up your company Instagram profile and share amazing images; then use the Instagram feed as a dynamic graphical element in e.g. your company overview app or newsletter sign-up.

Video Gallery
Set up video galleries where you display all your favorite videos from individial Vimeo or Youtube links.
Constantly updating your videos? Well, then hook up your video gallery to a Youtube channel or a specific playlist.
Text contest
This widget allows you to connect with a form, and display the text that participants have uploaded. Great for getting new ideas, having a contest where you want people to vote for the best text (poem, reason to win, a slogan, recipe, etc.), or just if you want people to say something nice about your brand.
Presenter
A way to display items from your webshop, or cases from your newspaper or blogposts. By pasting the links into the widget you can get the pictures, links and buttons you need to redirect people into your webpage.
TIP: Why not use it to display "the best Christmas gifts for mom", "our top 10 products" or "our top traveling tips"?
Twitter
This widget lets you to gather you favorite tweets, display your latest tweets or display a hashtag.
TIP: Make an "Us in social media HUB" where you can bring inn feeds from all your social media; youtube, twitter, Instagram, blog etc.

RSS feed
The RSS widget enables you to automatically feed in articles from your blog, news section, website or your local newspaper.
Set how many articles and characters that should be displayed and easily add share buttons that are connected to your source.

Picture Contest
Not everybody is on Instagram (at least not yet) and there are terms of use that might be a bit of a hassle to work with.
So why don't you arrange photo contest where your users can upload their images and add a title and description.
The entries will be displayed in a gallery with automatically added Like, share and vote buttons – and you can moderate what is shown in the gallery.
It can also be set up so that the images are "hidden" as default for those who are of a worried nature 😉

Embed
Embed external elements like videos, pdf's and flash.

iFrame
Frame in external sources such as custom built booking, contact form etc.

Google Maps
Create a map to your business address or the destination for your event with just a couple of clicks.

Age restriction
Want to limit by age who can access your app? This setting forces visitors to enter their birth date before being allowed entrance. 
Poll
Want to do a voting over best products, get users' opinions or just set up a funny poll?
With the poll widget you can get this done. Ask a question and add your alternative answers or images.
The voting results can be shown publicly or you can set it as hidden.
TIP: You can set the poll up so users can only vote once (handled via Log in permissions) and you can even fetch the email address of the voters if you want to reward them with a great offer or draw a winner.

Share
Add share button to your application so users have the ability to share with their friends.
Fill in a title, a caption and a description, and choose the image you want to go along with it.
TIP: In the mobile news feed it is only image, title and caption that are displayed, but on desktop the description is also displayed > so make sure you fill out all of them.

Like
Set up Like buttons with just a few clicks.

Comment
Another great way of viral sharing is trough comments, that's why we set up the comment widget. Based on Facebook's own comment plugin you can enable users to comment on your promotion and this gets shared with their friends.
TIP: Add a comments field on your promotion and ask users "Which product would you like to win" or "Why should you win".

Last updated: 16. august 2016