In 2014, Facebook launched Audience Network – Facebook's option to extend rich targeting to mobile apps. According to Facebook over 2 million advertisers are currently using the Audience Network for advertising.
— What's the news? —
Today – Facebook is launching an expansion of ad formats and ad types that are available in the Audience Network. In Facebook's own words:
"Since last year's launch, the Audience Network has provided publishers and developers with engaging, high performing ad units backed by Facebook's two million advertisers. Today, we are excited to announce a significant expansion of ad types and formats available in the Audience Network. The goal is even better outcomes for you, your advertisers and the people who use your app. Learn more about how you can enable native video ads for your app – https://developers.facebook.com/blog/post/2015/08/11/new-formats-for-audience-network/ "

Posted by Facebook Developers on Tuesday, August 11, 2015
What this means is that publishers and developers can now bring autoplay video ads from Facebook directly to their IOS and Android apps. You know – the ads based mobile apps and games we use every day. With click-to-play video ads – you provide people with complete control over their experience at the same time you're targeting people through all the options you have through Facebook.
Also – you can now also include Dynamic Product Ads and Carousel Ads in Interstitials. Making your Facebook campaigns scalable by adding them to the Audience Network, and partly programmatic and automated by using remarketing and Dynamic Product Ads. Retailers and e-commerce businesses with large product catalogs have seen great success creating personalized ads for their shoppers on Facebook, and now their campaigns can extend to the Audience Network.
Oh, you're a 24SevenSocial user? Try adding your ads to the Audience Network by choosing it under 'Placement' in 24SevenSocial Ads!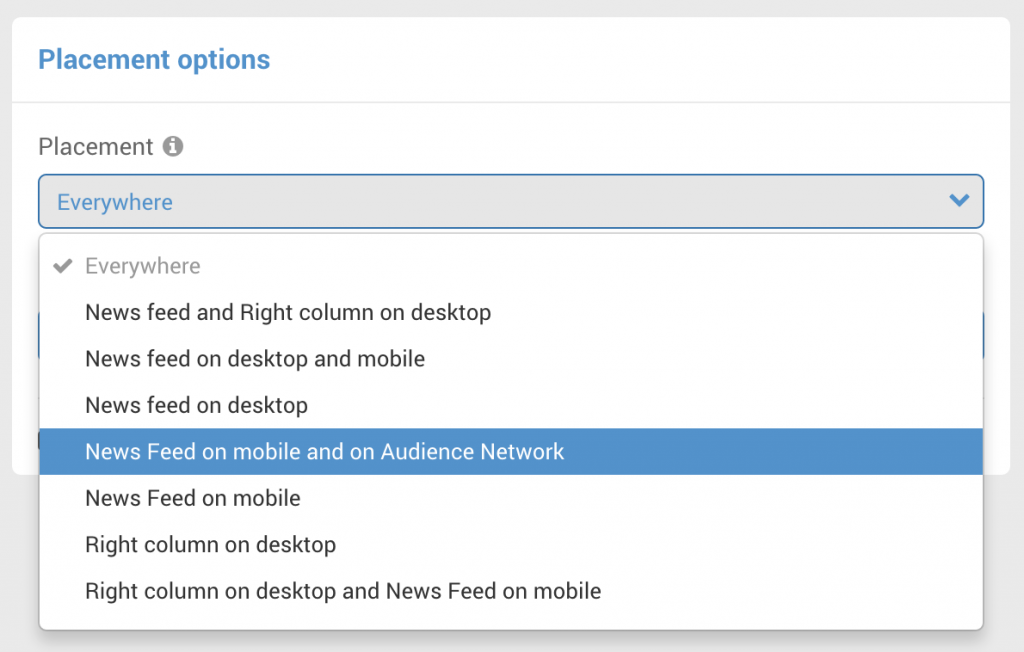 — What is Audience Network? —
The Audience Network is ads with the power of Facebook – outside Facebook. Facebook ads work because they are often tailored and personal. The Audience Network brings this to mobile apps, giving marketers even more for their Facebook campaigns.
Up to now, there used to be three different ad formats supported in the Audience Network – banners, interstitial and native ads. They are built to fit the look and feel of the app. Regardless of format – you don't need to build new creative – the Audience Network use the same images you use for your ads on Facebook.
What's in it for advertisers?
With this update, or Audience Network in general – Facebook marketers are no longer restricted to the one and only platform. Now, Facebook gives advertisers the option to increase their media coverage with relevant mobile ads, and at the same time – giving us the powerful targeting and retargeting options we've always had.
This, combined with Dynamic Product Ads sets Facebook lightyears ahead of other forms of advertising. Combining banner ads on mobile devices with the product feed of your website will enable Facebook to work for you and towards increasing conversion, all while keeping all ads relevant to those who see it.
The way this will work is that if I visit your online webshop, and look at two or three products in the same category – you can set up your a remarketing campaign targeted to me as a visitor, in order to re-engage with me. Adding Audience Network to the mix, will mean that you're not only re-engaging with me through Facebook – but on the handheld device I'm peeping down on 221 times a day.
Suddenly, you cut away a half of your ad spend while being super relevant, as well as knowing exactly where you're other half is going.