Did you miss this week's annual Facebook developer conference F8? Not to worry. Here are four of the highlights:
Messenger
According to Mark Zuckerberg's keynote, more than 60 billion messages are sent through Messenger and Whatsapp every day. No, we didn't mix an M with a B there. 60 billion! Messenger alone has close to 1 billion monthly users.  Messenger is now opening up for businesses, and the easiest way to get started is to start using your own messenger URL. For companies, that's m.me/username. As an example, to contact 24SevenSocial you go to m.me/24sevensocial.com. Go ahead – give it a try, we're happy to hear from you.
A side note: did you know that all 24SevenSocial-users can connect their Messenger-account to the 24SevenSocial auto-answer solution?
Messenger Bots
In Facebook's own words "Bots can provide anything from automated subscription content like weather or traffic updates, to customized communications like receipts, shipping notifications, and live automated messages". This isn't available yet, but it's in the pipeline. Facebook will make available an API and tools for developers to build their own bots. This is notable for several industries. One of the test runs are a collaboration between Facebook and KLM, with a boarding pass delivery for the airline. That's pretty big to both telecom companies and companies that have made their living off of text messaging.
Video
It's clear that Facebook is working hard to make video a bigger part of the platform, and in a bigger perspective to evolve video. Several updates were done relating to this, like:
launching a prototype 360 degree video camera, where the full spec will be open sourced for developers to improve on.
connecting apps like Vine and Instagram  so that you can soon make your profile picture video with Vine, and set it as your profile picture (video!)
letting any type of camera stream to Facebook Live.
sharing more of their dream and long term plan with the VR goggles Oculus.
Save Button
Are you a publisher? Now you can put a Save for later-button under your articles. Facebook users will then have the articles saved for later reading. The articles will be saved in Facebook. Producthunt.com is one of the first to launch it – see screenshot below.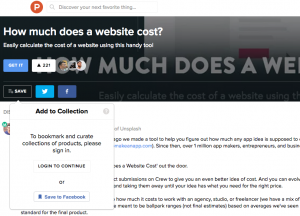 Believe it or not, Facebook reports that about 250 million people already use the feature every month, and that's the old save feature, before the new plugin.
Where to find what you've saved? In the left hand side menu on your Home menu, together with your most frequently used Pages, apps, Favorites, and more.
You can find the plugin here.
More:
Adweek.com: 8 Takeaways From Facebook's F8: Mark Zuckerberg Reveals the Company's 10-Year Plan
Theverge.com: Facebook F8 Developer Conference 2016 News Announcements Recap