Having a great looking Facebook Business Page is key for your brand's success. It makes it easier for people to discover and interact with you online. Did you know that Facebook had 1.82 billion daily active users back in September 2020? Huge, right?
Knowing this now should show you how important it is to be out there. It is simply not a social network you can ignore. The great thing about Facebook pages is that they are completely free and fairly easy to set up. We will dive into the specifics below, so if you're looking for a step by step guide on how to create your new Facebook Business Page, start by reading this blog! 
Before we dive into the creation process, we would like to ensure you are clear on the basics.

What is a Facebook Business Page?
Unlike your personal profile, a Facebook Business Page is a public account that is usually used by brands, organizations, artists and public figures. Brands use Facebook Pages to enable their clients to contact them easily which is important when it comes to client communication. They also share post updates, company-related content. As well as this, Facebook Business Pages can be used to promote events and releases. 
It's great that Pages can be connected to Facebook ad accounts and Facebook Shops easily.

Step 1:
The first step of your Facebook Business Page creation is to sign up.
To do this you need to navigate to facebook.com/pages/create.

Enter your business information in the panel on the left. While you do so, you will see all the changes you've made update real-time on the page preview on the right.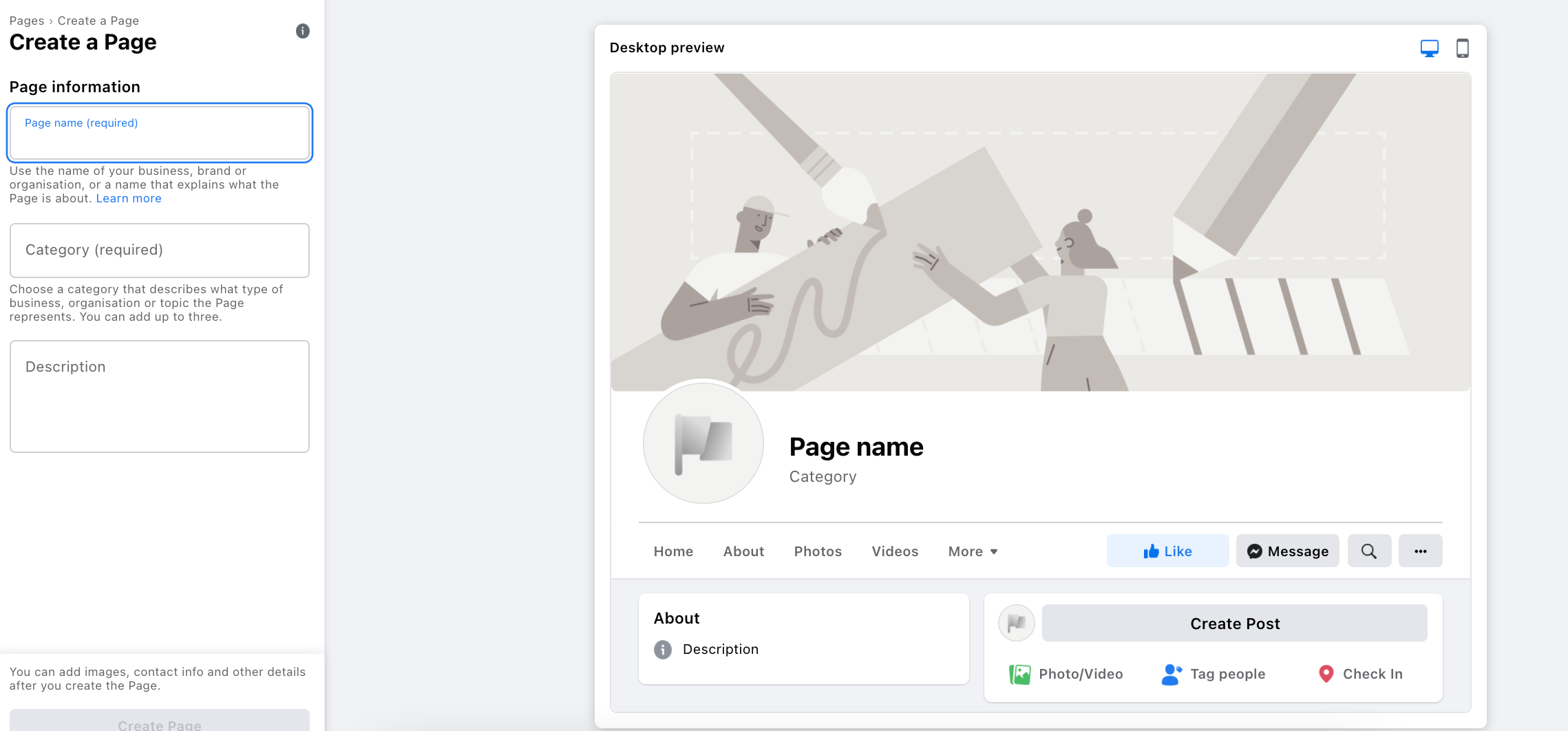 Source: Facebook
When choosing your Facebook page name, it's best to use your actual business name. You can also include any related additional keywords that people are likely to search for when looking for your business.

For example, if you own a bakery and your business name is Mary's, rather than just putting Mary's as your name, you can name your page Mary's Bakery. This will make it easier for potential customers to find you on Facebook. 
You will then need to choose a category for your business. You just need to start typing a word that describes your business. Facebook will then suggest some options. You will only be allowed to choose three of the suggestions.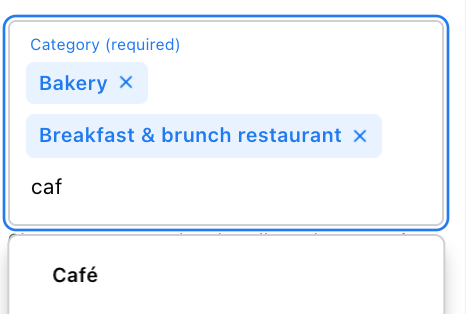 Source: Facebook

The final step for this part is to fill in the Description field. Your description should only consist of a few short sentences (maximum 255 characters) and it usually appears in search results.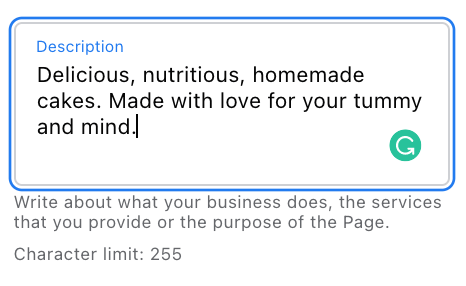 Source: Facebook
Once you are happy with your new Facebook Business Page name, category and description, you should see something like this: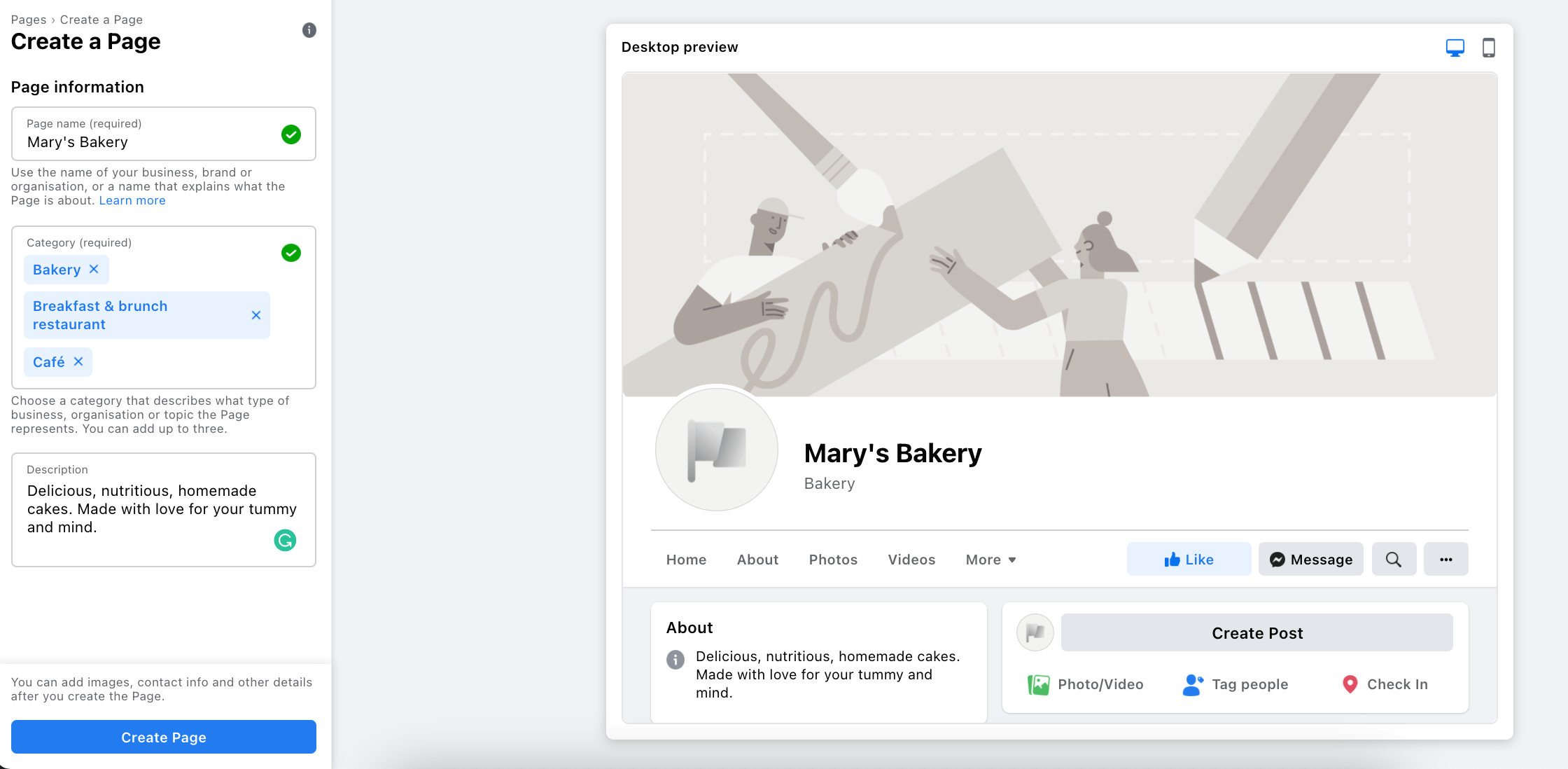 Source: Facebook
To complete Step 1, click Create Page. 
Step 2:
The second step of creating a great Facebook Business Page is to add images. You should start with the two obvious ones – profile and cover photos. Our main advice for those is to ensure the photos you choose to represent your brand and make it easy for people to associate them with your business.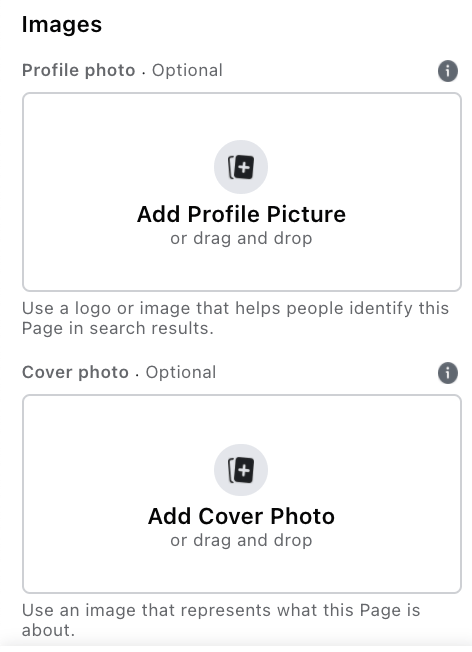 Source: Facebook

It is really important to fit into Facebook's image size requirements. To do so, you can go through our social media image size cheat sheet. This will help you ensure your business page will look as sharp as ever.

Have you completed steps 1 & 2? Are you happy with the overall results and look of your page?
Yes? Well, congratulations 👏 👏  Your first Facebook Business Page is, even though it is still empty and sparse.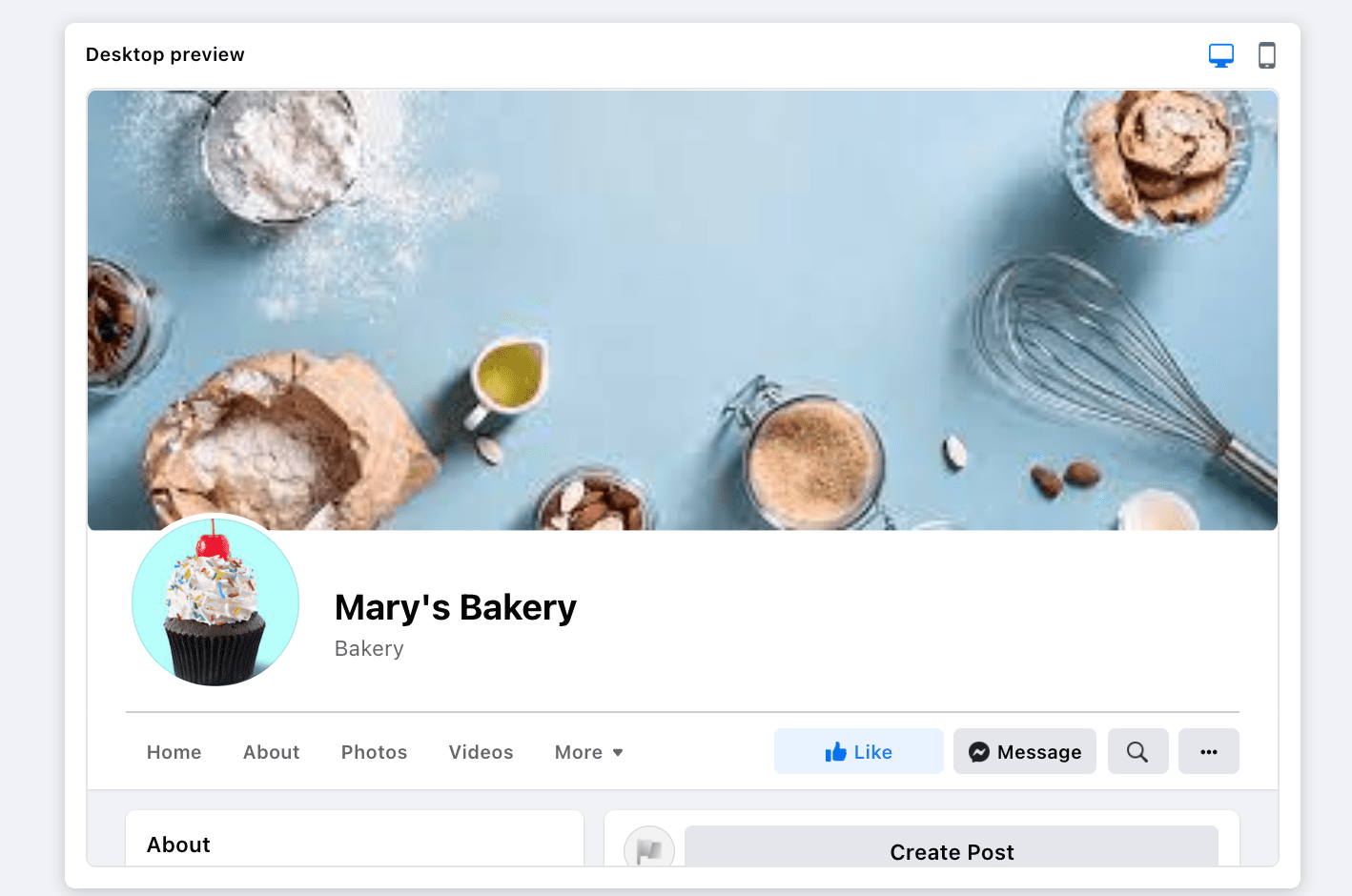 Source: Facebook
What other steps do you need to complete in order to create a powerful Facebook business page?
This is a valid point, which is why we have prepared a few other steps to get your business out there.

Step 3
After you are done with the basics, it's time for you to add as much business information as possible. Even though you may be tempted to do this at a later stage, we highly recommend do it as soon as you possibly can. Usually, when customers search for your business, the first place they go to is Facebook. This is why you need to fill in the About section of your page quickly.

It's really easy to complete the sections because Facebook has a set of reminders to help you get everything right.

How do you complete all the sections?
As mentioned above, it is quite simple and intuitive. You just need to scroll down on your Page view to the section called Set Your Page Up for Success and expand the item called Provide Info and Preferences.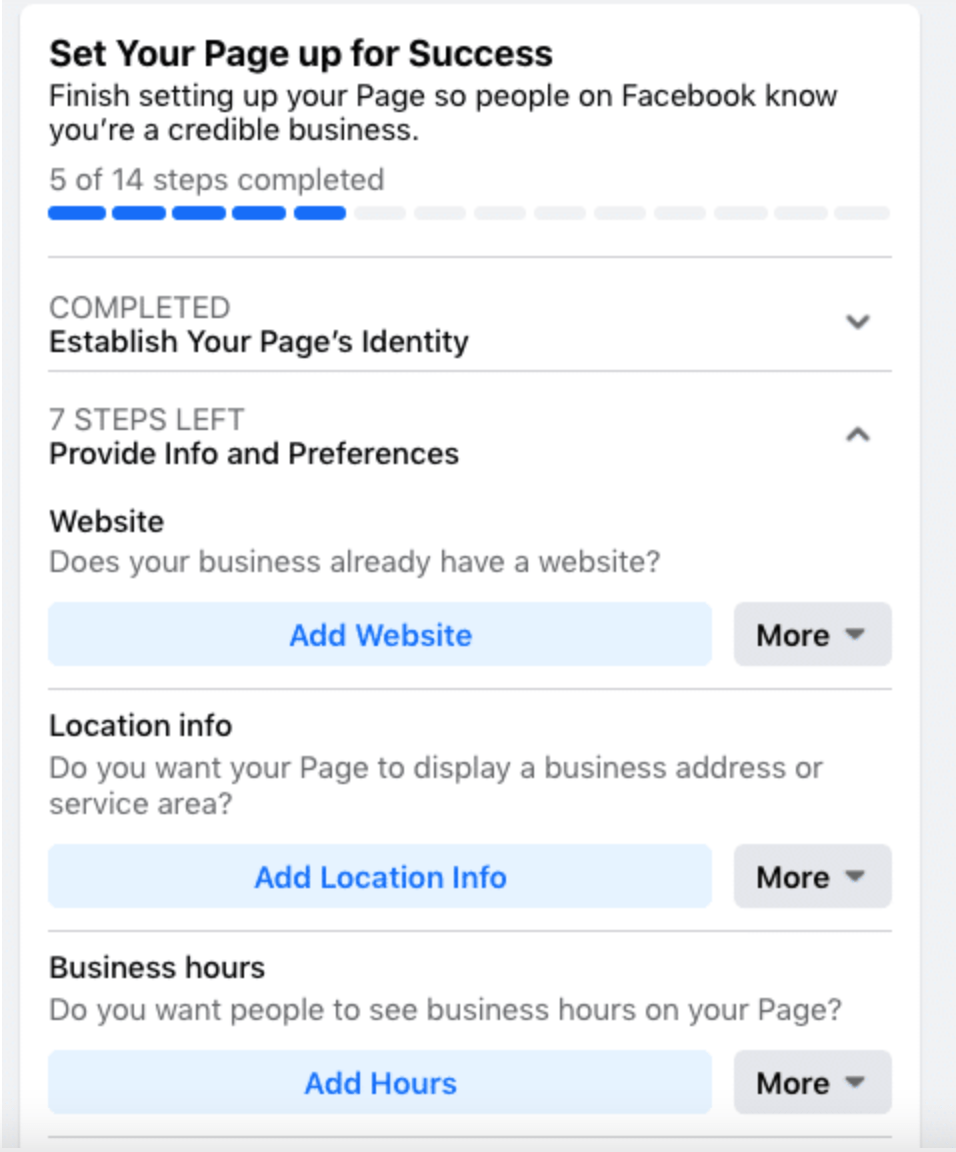 Source: Facebook

Fill in all the appropriate details. If your business is open to the public during specific hours, make sure to state this specifically and enter the working hours in the appointed section.

Step 4
After you have completed filling your details in, do not forget one of the most important parts of your Facebook Business Page set up – Adding a call-to-action button (CTA).
Facebook has a built-in CTA option, making it very easy for you to set one up. Having a good Call-to-action button makes it easy to give your potential client a shortcut of reaching out to you.
Having the right CTA button on your page will encourage visitors to learn more about your business, download your app, book an appointment or shop from your store.
Step 5
Once you have completed all the 4 steps, outlined above, it's time for your first post. You should have some valuable content on your page before you start showing the world your page. We have a great article outlining the top posting trends for 2021 which can give you some inspiration for your posts. 
Now that you have your first post and your page ready, it is time to popularise your page.
This brings us to Step 6 – getting followers.
To get some followers on your page, you can invite your existing Facebook friends to like it.
To do so, just scroll down to the bottom of the Set Your Page up for Success box and expand the section called Introduce Your Page and click on Invite Friends.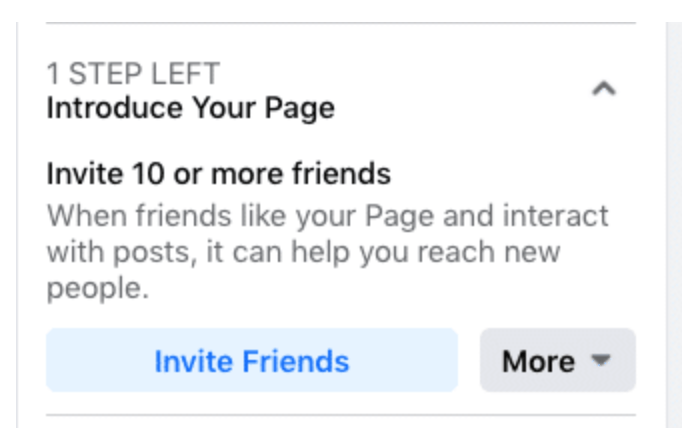 Source: Facebook
Well done! You know how to create a Facebook Business Page! You are all set for success. To ensure this happens, you just need to post engaging content regularly and keep on presenting your business the right way.
Follow us for more useful tips and tricks to manage your social channels the right way. 
Psst: Don't forget that with 24SevenSocial you are able to easily create and schedule posts using our publisher tool. You can also easily engage with your followers and stay in the loop of relevant conversations. You can do this from just one simple dashboard. To top it all up you can take advantage of a free 14-day trial.