Is it really important to get your social media image sizes right?
The short answer to this question is yes, it is important to ensure your images look as great as possible on your social media profiles.
As well as great image quality, you should make sure that you comply with the copyright laws of any stock images you use. We highly recommend using original images, however, this is not always possible. 
Social media image sizes keep on changing and it is sometimes hard to keep track of them all. You may have the perfect cover photo today. Next thing you know, a new trend happened overnight and your perfect cover now looks really wrong. 
It is also really important to ensure that the images you use look great on all devices. We often see cover photos looking great on desktop but not on mobile devices, or vice-a-versa.
This is why we created an easy to use and follow cheat sheet with 2021's most recent image size specifications for popular social media networks like Instagram, Facebook, Twitter, LinkedIn, and Pinterest.
The most important point to note is that the quality of any visuals you use on your social media profiles should be great. It, therefore, means that you have to get the image sizes right. Furthermore, using the correct social media image sizes is important because:
You will avoid pixelation, awkward image stretching or squishing.

Your images will look professional and optimised for each social channel's feed. Moreover, this will help you increase the overall engagement of your posts and your overall reach. Social media platforms tend to like good quality images and this will help the algorithm work faster.

By using the correct sizes, you will also ensure that your target audience will clearly see the message you are trying to communicate to them.

Overall knowing and using the correct image sizes for your social media posts or ads will definitely save you a lot of time and resources. As a plus, it will make your brand look trendy and professional.



Quick Tip:
You can easily use 24SevenSocial's editing tool to help you get your social media images right. We keep our word, so without further ado, you can see the image sizes breakdown per network below: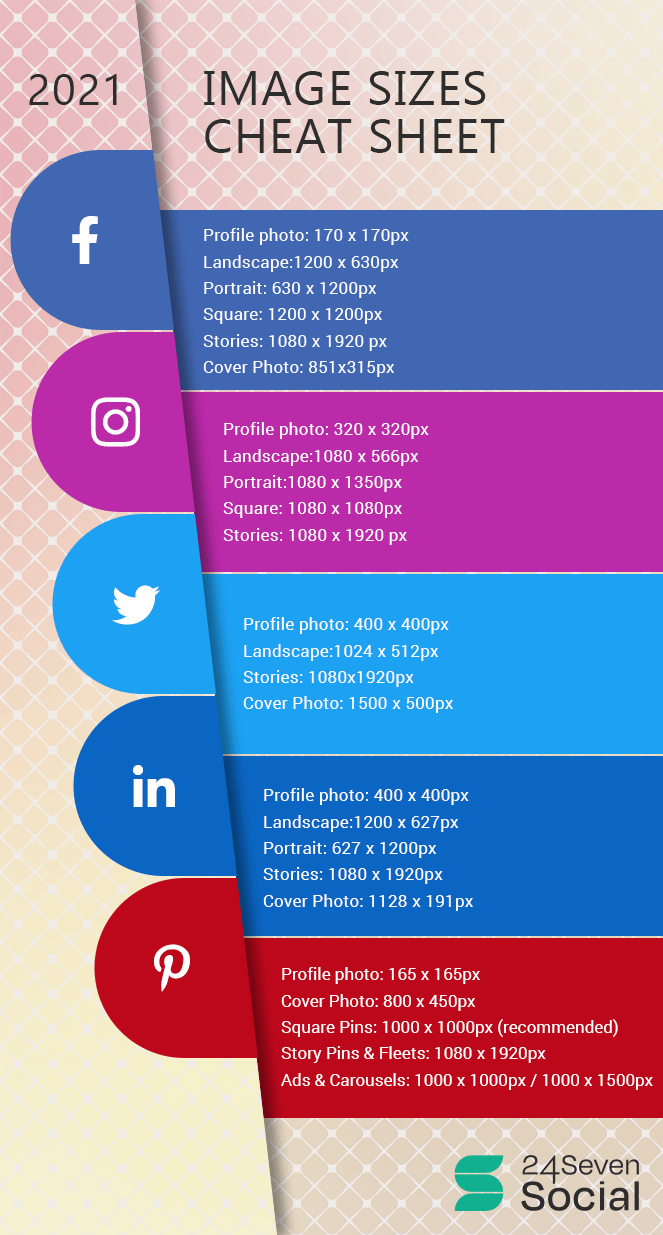 Aim to follow the sizes above to have your images looking great on your social media.

If you would like to manage your social media profiles easily from just one place, do not hesitate to start your free trial with 24SevenSocial today.