"It's beginning to look a lot like Christmas" 🎼 and do you know why?
We can't keep to ourselves anymore and we won't keep you waiting. Drum roll, please!
We, at 24SevenSocial, are extremely excited to announce our newest, Christmas surprise features that will make your life a whole lot easier! Measuring your content success with the help of comprehensive social media stats is essential.
You already know that our goal is to make your life as a social media professional hassle-free. This is the main reason why we decided to upgrade our main tools – Publisher and Ads.

Without further ado, please see the newly released social media stats & ad features below:
We will start with the news for
PUBLISHER:
What have we done?


With 24SevenSocial Publisher, you now have a full view of the performance of your posts with the help of understandable data. You are able to oversee how people react and engage with your social activities not only on Facebook and Instagram but also on LinkedIn and Twitter. 
We have added more numbers than ever. With the new features, you will be able to easily see the performance of each one of your posts for each individual network from one single place, so no more platform-hopping. This will help you and your team decide exactly what type of content and which social platform works best for your business. It will also make it easier to plan and schedule your content. Last but not least, any data-driven decision that you make is way better, relevant and on-time when you have easy access to all the available stats. 
What changes will you notice in your Publisher list and Publisher Summary?


The view that you have used to work with for Facebook and Instagram is now available also for Twitter and LinkedIn  – you can see clear data related to your content performance. And we are talking about stats for  Total Reach (this is the data for both Organic and Paid Reach), Paid Reach Only, your total Engagement, as well as Engagement percentage (%) which is calculated as Engagement/Reach.

We reached out to a lot of our users and pinpointed the main and most important numbers to help you achieve better results when you plan your content out. The best part is that you will be able to oversee all your posts in one place which will help you have a better view of the bigger picture, of your overall social media content. This data is essential as it shows the performance of your posts on different social media platforms. This in its turn helps with your planning. Furthermore, you will know where to navigate your efforts to. 
As mentioned this is not all that we did to improve your social media management experience with 24SevenSocial. We also wanted to make your advertising game as seamless as possible. 
This is why we would like to introduce the new
Flexible targeting
feature in
24SevenSocial Ads.
What is Flexible targeting and why would it help you run better performing campaigns with good ROI?
We wanted to give you the option to expand the possibilities and define a better Targeting for your Ads. The new feature gives you the opportunity to combine, include or exclude different detailed targeting options in order to reach a specific set of users. As a result, your existing target groups may see an increase in their audience size, which is great, especially after all the limitations advertisers have been experiencing with running Facebook and Instagram ads recently. 
What can you do specifically?
One of the best options is that you are able to target people who match a certain set of criteria by adding more targeting details that will expand your audience. You can also choose to narrow and refine your audience by adding additional match conditions. Last but not least you can also exclude people who match your chosen options.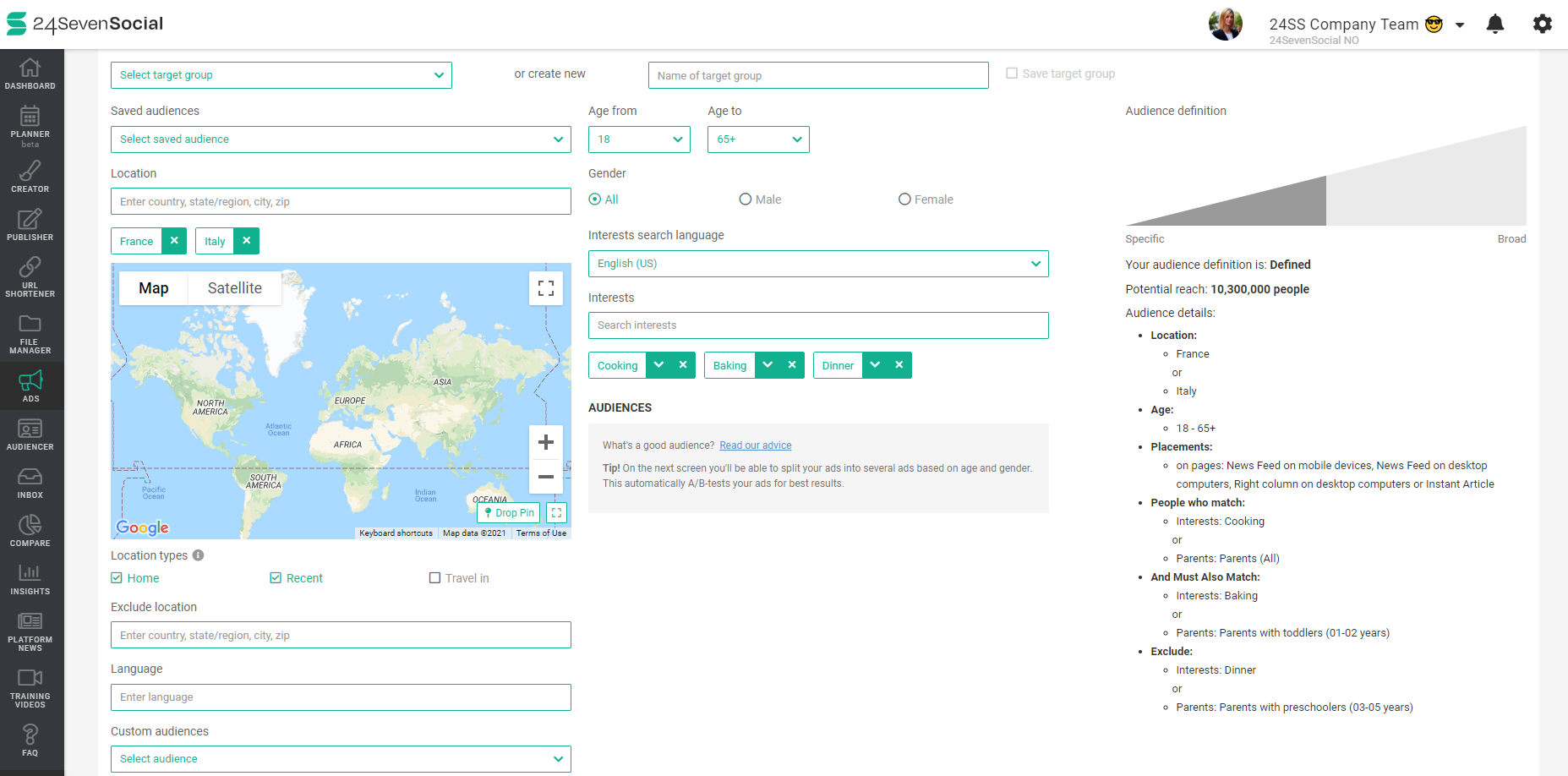 We have added
Flexible and exclusions targeting support
to these categories
:
✔️ Interests

✔️ Behaviours

✔️ College

✔️ Field of study

✔️ Job titles

✔️ Employers

✔️ Family statuses

✔️ Industries

✔️ Life events
Well, folks, this is it for today! The cat's out of the bag and we hope you are as excited about the new features as we are. 
Our team is constantly working on upgrading and improving, even more, all the tools we have in our 24SevenSocial kit because we want to ensure your social media management journey is as pleasant and joyful as possible. Don't forget to follow us to stay in the loop of all the upcoming new tools, features and actionable advice we have prepared for you!