Hello, and welcome to today's article about Facebook Ads objectives. Over the years we have seen and heard a lot about Facebook and Instagram Ads. There have also been numerous occasions where we have been asked which Facebook and/or Instagram ads objective should be chosen to bring the best possible results and how to know if the current objectives are correct. 
If you are running Facebook and/оr Instagram campaigns and believe the goals you've chosen are incorrect or that choosing a different one may yield greater results – you've come to the right place. 
In this post, you'll learn how to pick the best
ad objectives
for your Facebook and Instagram campaigns to meet your business goals. 
How to avoid choosing the wrong ad objectives for your Facebook & Instagram campaigns?
One of the most important steps you need to make when choosing the intent of your ads is to have a clear strategy with outlined goals. Choosing a campaign goal that isn't aligned with the results you want to attain is quite a substantial mistake you can make. Furthermore, this would immediately put your campaign at a disadvantage. 
So what are the main goals you can set for your Facebook & Instagram ad campaigns? 
Let's start by saying that there are three main goals you can choose from. Those are Awareness, Consideration and Conversion. You need to get this correct first. So, for example, if you want more sales, your best bet is to create a Conversion, Catalogue Sales or Store traffic campaign, not a Brand awareness or a Lead gen one. In other words, the objective you choose tells Facebook about your campaign's goals and the action you want people to take after seeing your ad.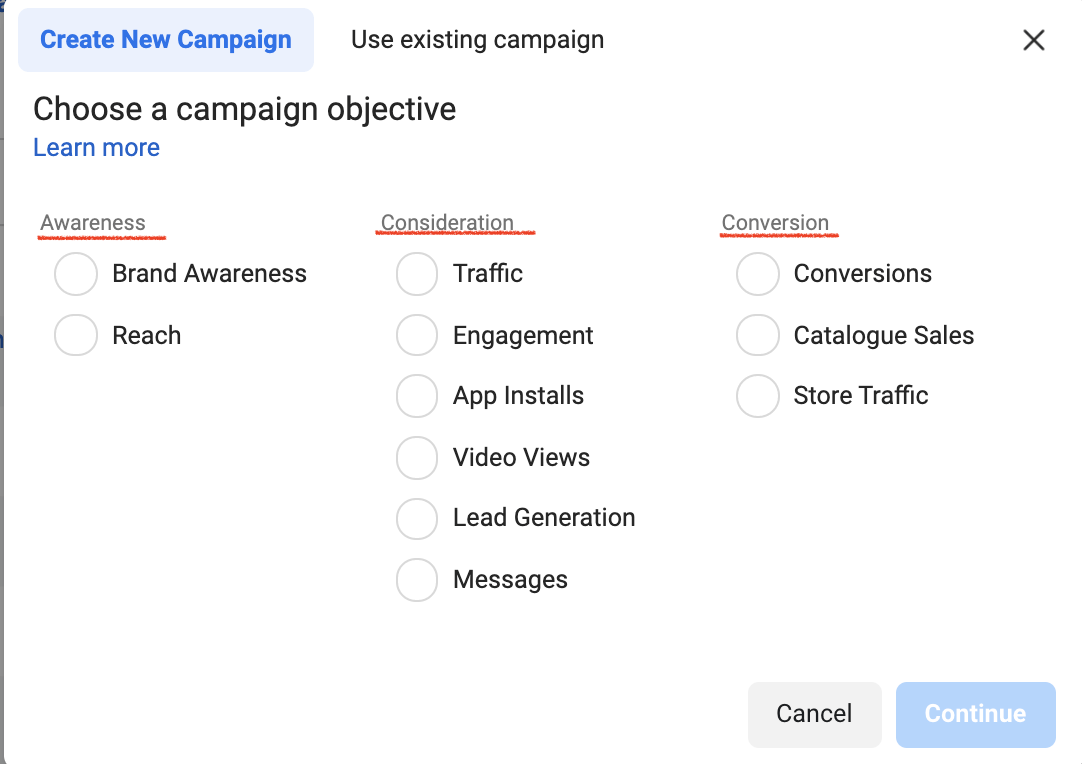 Source: Facebook
Let's go through a breakdown of the various ad objectives and when they should be used:

👉 Awareness Objectives
There are two campaign objectives in the Awareness category—Brand Awareness and Reach. As you can guess by their names, the main aim of those is to build more awareness and reach as many new people in your target audience as possible, within your budget. As the ads with Awareness objectives are optimised for impressions, the clicks and engagement rates are typically quite low. 
✅ So when should you use the Brand awareness and Reach categories:

We advise you to use Brand Awareness if you want to establish a memorable brand and have the ability to measure the ad recall lift.

The Reach goal is to be used mainly when your goal is to get the attention of as many people as possible. For example, if you have a new product or service that you want to promote, you can use this goal to gather as much reach as possible. However, this would not be the best choice if you need to get the people you are targeting to complete an action. It's simply making your audience aware that you have something new going on. 
If your goal is to increase your website traffic or sales, don't pick these ad objectives. You want to make sure your advertising budget is spent on the ones that are most likely to bring new visits to your website, or more sales.
👉 Moving onto Consideration Objectives
The main six categories in the Consideration ad objectives are Traffic, Engagement, Video Views, Lead Generation, Messages, and App Installs. They can be used on campaigns you want to be optimised for a specific activity such as link clicks or comments. The ads will be shown to those people in your target audience who are most likely to perform the action you've chosen.
Let's dig deeper into each of the six categories to find out what they are best used for and when to use them.

✅ Traffic
Choose the Traffic ad objective and optimize for link clicks or landing page views if your primary goal is to drive traffic to your website. Based on the prior behaviour of your target audience, Facebook will show your advertising to those who are most likely to click your link.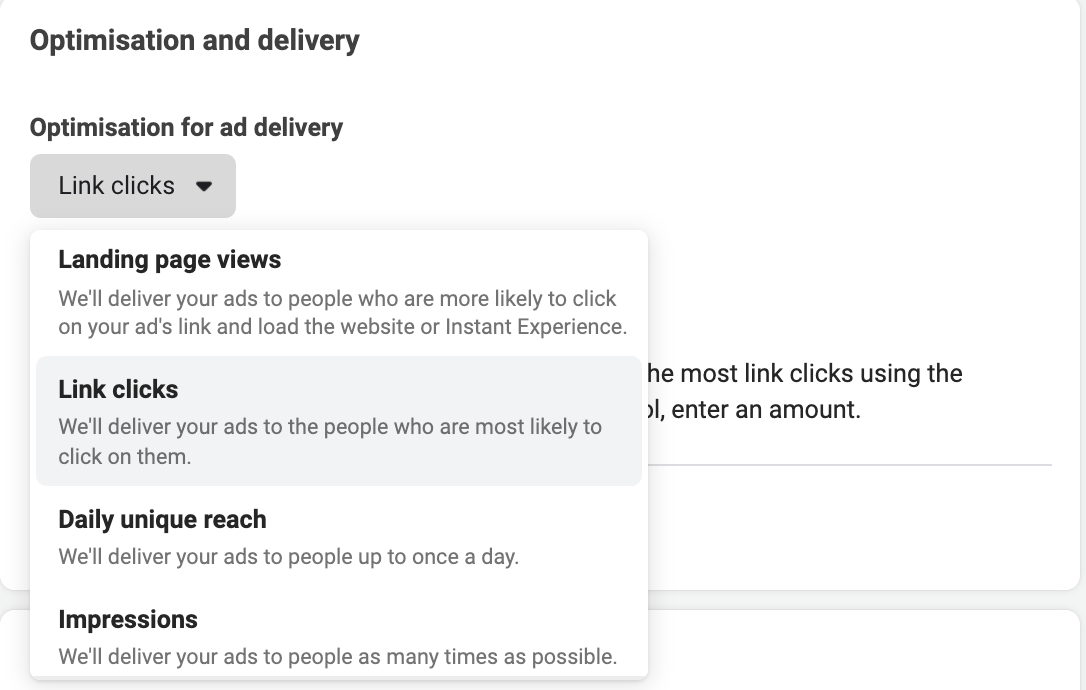 Source: Facebook
There are a few optimisation options for your ad delivery that you can choose from.
The best goal for a traffic campaign would be if you need to drive people to your site. For example, you can increase the traffic to your blog by utilising this type of campaign.

✅ Engagement
You should choose the Engagement ad objective if the primary purpose of your Facebook or Instagram campaign is to increase the overall engagement to your posts, increase the total number of page likes or Facebook event responses. Furthermore, your ads will be shown to individuals in your target demographic who are most likely to interact with them.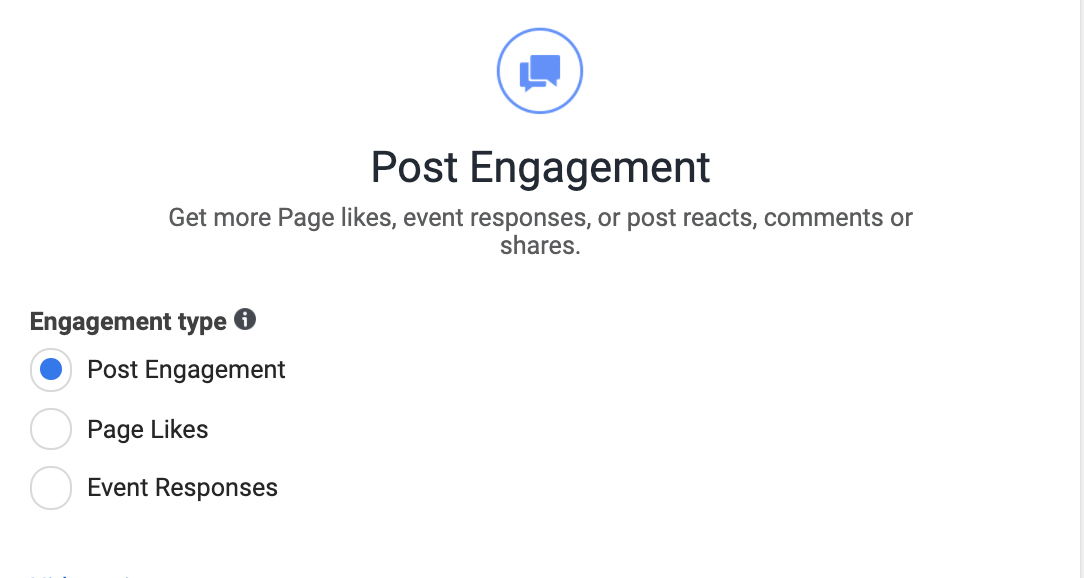 Source: Facebook
✅ App Installs
The App Installs campaign objective is a wonderful choice if you have an app. Your primary goal here should be to boost downloads. Facebook will distribute the ads to the people in your audience who are most likely to install your app. When they click the ad, they'll be sent straight to their app store (either Google Play or App Store), where they may download your app.
You'll need to register your app with Facebook and install the SDK, which will allow you to track event data from your app in Ads Manager, to obtain the greatest results from this objective.
App Installs campaigns are divided into two categories: automatic and manual.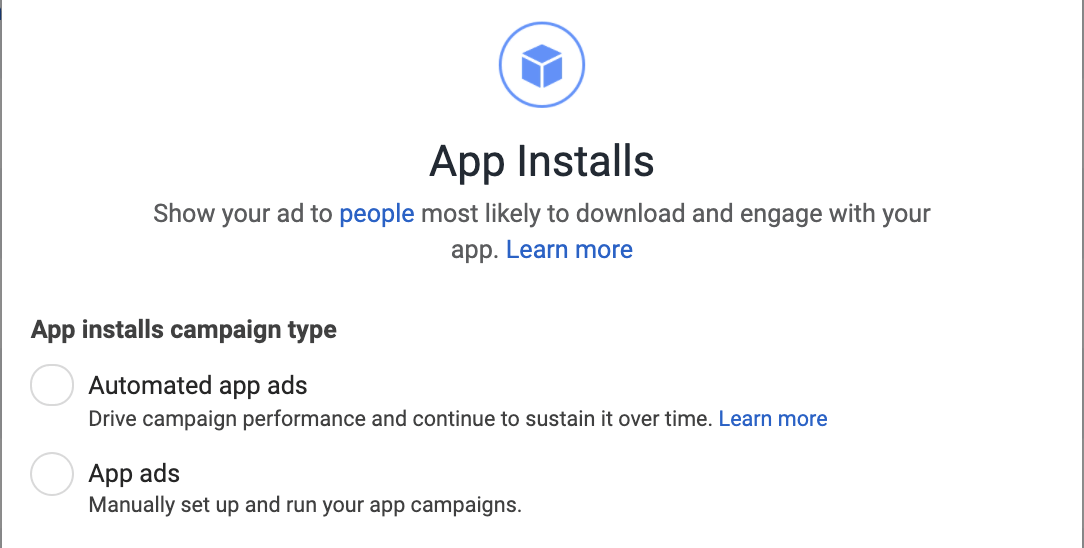 Source: Facebook
✅ Video Views
You can use Video Views campaigns to gain brand trust and recognition. It's a perfect way to introduce your business to potential clients or customers innovatively and engagingly.
As usual, Facebook will show your ads to the people in your target audience who are most likely to watch and engage with your video. You do however have the option to show your ad to an audience that is most likely to watch your ad for at least 2 seconds or 15 seconds or more when developing a Video Views campaign.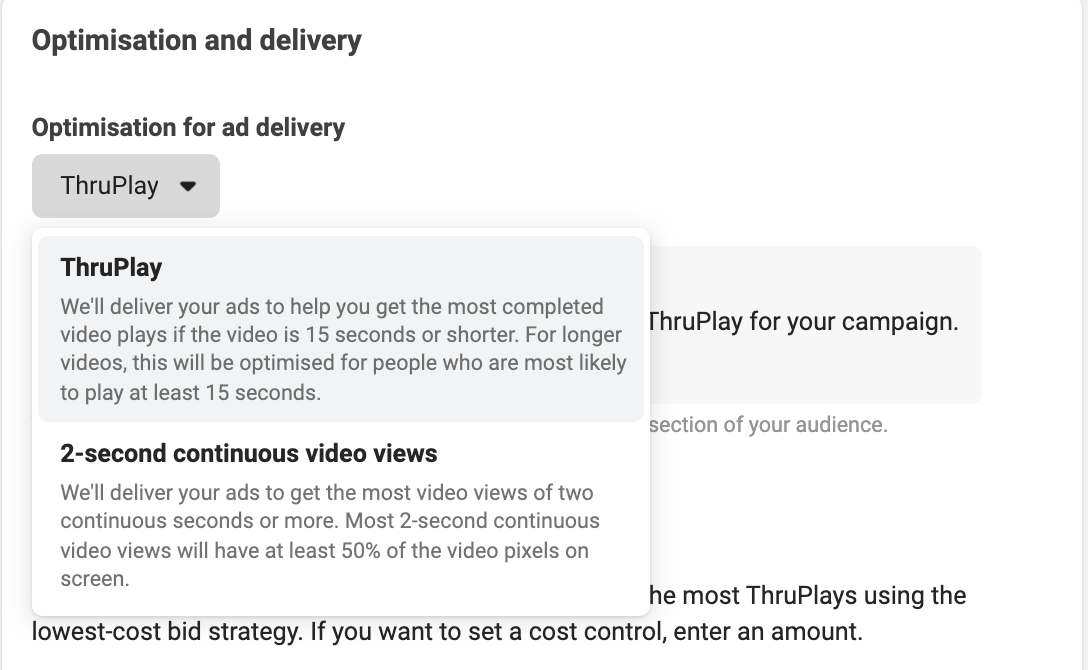 Source: Facebook
✅ Lead Generation
The lead generation objectives are a perfect way to get hot leads in your funnel. Those ad types allow you to add a contact/ lead form to your Facebook ad. You can customize the form to suit your business needs. Ensure you receive quality leads by collecting the needed information.
Once the form gets submitted you can easily download it via your Facebook page. You can also integrate a third-party app like Zapier which will get the forms automatically sent to your CRM.
The
lead generation ad objectives
are a great way to prospect new potential customers or clients. 
The best part about lead gen ads is that you can choose the lead method that works best for you. For example, Instant forms, chat messages or even calls. 

Source: Facebook
✅ Messages
If your main campaign objective is to spark instant conversations with your audience, then Messages are your best bet. Your call-to-action can either be to send people directly to your Messenger, WhatsApp or Instagram Direct.
Quick Tip: Make sure you are responsive so you don't lose out on potential customers.
You may also find our post on customer success tips quite useful if your goal is to directly speak to your audience.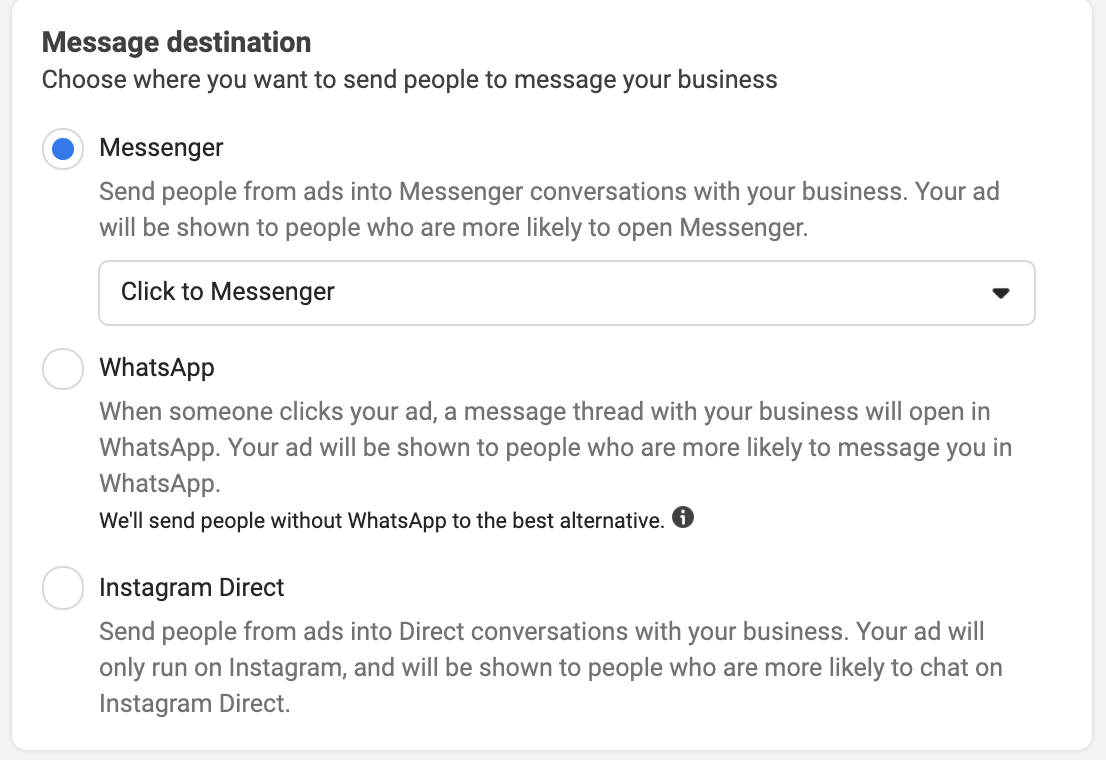 Source: Facebook

👉 Last but not least, we have reached the Conversion objectives.
Three main categories fall under this objective. Those are Conversions, Catalogue sales and Store traffic.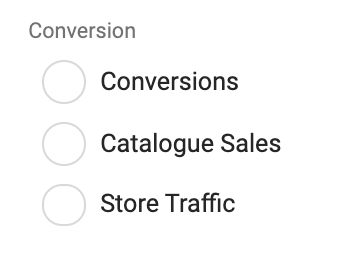 Source: Facebook
✅ Conversions
are often the greatest goal to start with if you aim to reach individuals who will take a certain action on your website. Those can be a website form submission, "adds to basket", registrations, signing up for your newsletter, or completing a purchase.
To utilize this goal, however, you'll need to do a few extra bits:
After you complete the 4 steps above, you will be able to track your conversions. Furthermore, you will be able to measure the success of your campaign. 
✅ Catalogue sales
If you have a product-based business, you can utilize the Catalog Sales goal. This will display items to your target audience by creating a catalogue on Facebook. This type of advertising is a great way to showcase your product feed to all your potential customers. It's also very useful when you retarget people who have had previous interactions with your site or products.
This is known as dynamic product advertising. They allow you to offer consumers a selection of items in your ads. You can also retarget customers with specific products depending on their website behaviour. 
Have you ever added a pair of shoes to your cart but then abandoned them? How about having the merchant stalk you on Facebook or Instagram until you finally purchase the shoes? Yeap, we have had this too. This has happened because they're most likely running a catalogue sales ad (in the hopes that you'll return to purchase the item left in your cart).
To run Catalogue sales ads, you need to create a Facebook product catalogue. To keep users from scrolling through their news feeds, Facebook will choose photographs from this database to use in your advertising. Make sure they're eye-catching. 
✅ Lastly, we have Store Traffic ad objectives. They are a great way to drive more foot flow to your physical store. They are best used if you have more than one store.
To use this objective, you need to add your physical store location as well as opening hours to Facebook. Your ads will be shown to people within a specific radius of your store's location. This can either be set manually or automatically within your store set.

Source: Facebook
    Update: we are expecting to see quite a big change in Facebook's campaign objectives during 2022. It is expected that there will only be around 6, instead of 12. Wow!! Yes, believe it or not Facebook will be introducing Outcome-Driven Ad Experiences (ODAX).
According to Meta, preciously know as Facebook:
– "ODAX can provide logical choices that are aligned with widely accepted marketing concepts.
– ODAX can help advertisers discover on-site solutions to use in their campaigns.
– ODAX can help reduce the complexity of campaign setup, aid scalability, and avoid duplicity of options".
Source: Facebook
We will have more information by the end of January. The news is exciting as it should make the lives of digital advertisers much easier.   
Wow! This was a long post, wasn't it? Hopefully a very useful one. We want to make sure you are clear on the ad objectives you have available on Facebook ads and use them correctly. 
We have a lot more useful tips and tricks prepared for you, so make sure to follow us to stay in the loop.