Snapchat – the American multi-billion dollar instant messaging application that was first launched as such in September 2011 and then bloomed tremendously in 2017. Let's look at Snapchat's published statistics. In 2017, the app had 160 million daily active users, growing to 166 million in May the very same year. In their first blog post, from May 9, 2012, the CEO of Snapchat Evan Spiegel described the company with the following: "Snapchat isn't about capturing the traditional Kodak moment. It's about communicating with the full range of human emotion—not just what appears to be pretty or perfect".
The app is primarily considered to be a Generation-Z platform of interest and when it launched, it created great
hype
with its interesting and innovative for that time features. Snapchat successfully brought a fresh and truly unique way of interaction. The style of communication won the young public, especially when they introduced the disappearing 24-hour story. 
It worked fantastic for businesses, helping them promote their products in a fast and entertaining way. People who simply wanted to share something quick from their day-to-day life without making it permanent also loved the feature. 
But the question many people wonder about is where is Snapchat in 2022 and is it still a "hype"? 
There were a few slips the company made that we can not miss mentioning as they really affected Snapchat's popularity. Those "missteps" led to many people, including celebrities such as Rihanna, quitting the application. 
Let's start with the fact that Snapchat was mainly focused on iOS users. This left many Android users unsatisfied with Snapchat's performance. It became harder and harder to compete against Facebook as they successfully managed to apply Snapchat's most liked features to Instagram and now Insta stories are preferred much more by the mass public. We also have TikTok on the market, which grew massive popularity with 1 billion active users per month. In comparison, according to Business of Apps, Snapchat had a total of 293 million users and has only grown to 314.6 million users in 2020. Furthermore, the total number of Snapchat monthly active users for 2021 is only 310.7 million. 
Judging by the statistics, we can say that the
hype and love Snapchat
once received is getting less and less. Even though the platform is still quite popular nowadays – its future is unclear. Snapchat's popularity depends on the decisions the company's board will make. They will either pave a bright future for Snapchat .. or a bit of a gloomier one. Either way, we will keep a close eye on the App's future. We promise to keep you up to date with all the Snapchat developments. 
Let's not forget about the numerous examples where we have seen different social media platforms struggle and then re-surface to their prior popularity. Twitter, for instance, struggled in the past few years. Many industry experts thought it will descend but the platform managed to amaze us by actually turning a profit. They really hit a nail on the head this year when there was a massive system issue with Meta's platforms – Facebook and Instagram. Twitter simply trolled Facebook by reminding its users that they still have a platform they could use: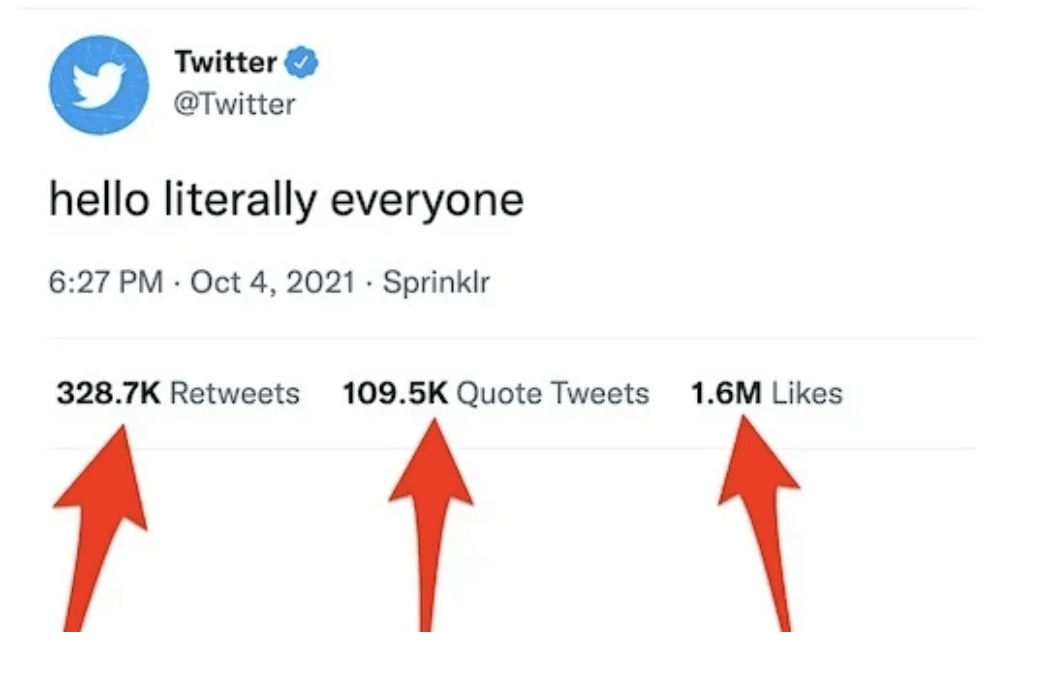 Source: Newsfounded
Who knows what the future will bring. Snapchat may turn into a great alternative for those who do not want to use the other market giants. Perhaps the wonder of 2011 will surprise us with something astonishing which will bring them back in the game. Only time will tell. 
In the meantime, while we are all waiting to see if Snapchat's hype will make a return, don't forget to follow us for more interesting social media news and insights.