It's official and it might be released any day now – iOS 14.5 update will affect all Facebook advertisers and restrict their precise targeting and tracking options. But is this update really so scary and destructive for your Facebook Ads and what can you do to prepare and successfully upgrade your account and strategy? We are here to explain and help!
First let's start with the changes that you should expect soon 
1⃣ How optimization and targeting will change – For one domain you'll be able to use only eight-pixel events for optimization. This means that you should carefully consider which of all events on your site are most important for your business goals, and optimize your ads for them. However, you'll still be able to track more events for reporting and audience creation. 
2⃣ Measurement – The fact that all iOS 14.5 users will be able to restrict their data from being shared with Facebook (and you as an advertiser) will make measurement more complicated as it will contribute to under-reporting on organic as well as paid channels. We are also expecting an increase in the so-called dark social traffic – or untraceable data sharing.
3⃣ Reporting – There will be a three-day delay on data display for the data that comes from iOS 14.5 users. This means that you'll see less reported conversions and you won't be able to use options like the conversion event breakdowns. 
👉🏻 Other important reporting issues that are expected to happen are bugs in the reported conversions when you leave the Facebook ecosystem. For example if your client sees your ad in Instagram and is taken to a web browser to complete a purchase, this event will be lost and not properly attributed.
As we mentioned, these changes will take effect immediately after Apple releases their system update. But there are some steps that you should take now to prepare for them.
How to prepare for the change
👉🏻 In Facebook Business Manager
☑️ First and most important – Verify your domains with Facebook. When you verify your domains with Facebook, this means that you're officially set up on the platform. Here is the official Facebook guide on how to do that. Just remember that you should do this from the account owner's profile. 
☑️ Decide which 8 events for conversions you'll track and rank them in the Events Manager (Here is Facebook's official overview of "events" and a guide on how to decide which events to track)
☑️ Setup all your campaigns to 7-day attribution window
Due to Apple's iOS 14 changes, Facebook will be using Aggregated Event Measurement. With Aggregated Event Measurement, each ad must include the domain where you intend for conversions to happen. To ensure that we can continue measuring conversions on your website once Apple releases iOS 14, you'll need to select a domain in each ad's Tracking section. Learn More
You will see a new field in the Campaign creation flow to set the conversion domain for new Ads utilizing the Facebook Pixel. Existing ads will have their domain auto populated based on the destination url.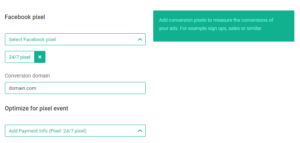 🤔 But exactly how harmful will be those changes to your business?
Well, it really depends on where you advertise! 
Let's take a look at some stats
According to a recent research done by AppsFlyer, on average, 41% of the iOS users opted-in and actually allowed the apps which already implemented the App Tracking Transparency (ATT) framework to track their data. Which is much higher than the initial industry predictions. The remaining 59% chose to hide their data.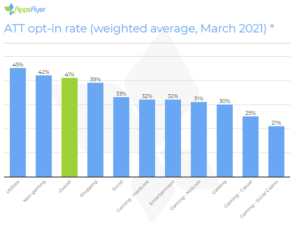 BUT these are not 59% of your total clients – these 59% are only those, using Apple devices! This is a thing that you should remember. ☝🏻
And now let's look at the iOS market share stats per region and do some math: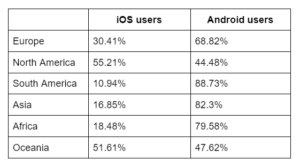 So basically, if you advertise in Europe which has 30.41% of iOS users on average, you can expect around 17% of your total clients to become untraceable and around 17 to 20% drop in your Custom and Lookalike Audiences. 
And even though we should admit that the change will still be significant and will cause disruption to data tracking and targeting, maybe, at the end, it won't be as bad as we all thought in the beginning.