The fourth edition of the Congres Facebook Marketing focused on content, and how new technologies will affect commerce and consumer behavior.
The conference attendees have evolved – just like social media has – and they expect more than just talk about Facebook Likes. It's no longer (all) about having a lot of Facebook Page likes. The big questions for this conference were how consumers use social media in 2016, and how companies can act on social media to get the highest possible social media ROI (return on investment). This summary contains all the highlights you need to know from the best visited sessions.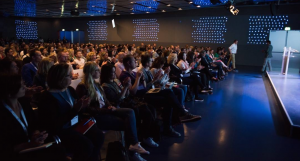 Peter Minkjan, social media strategist at the Dutch media company and broadcaster RTL, and founder of the marketing platform Likeconomics, opened the Congres Facebook Marketing with his keynote on how Facebook has evolved in the social media landscape. According to him, Facebook is used as a personal newspaper, while platforms like Instagram and Snapchat are used for more personal updates. Whereas Facebook started as an intimate, private social network, it has become a place where everything is known about your clicks, and your online behavior. He argued that this has lead to a 21% decrease in personal updates by users. Interestingly, there has not been a decrease in the average of minutes spent per day on Facebook. And milestones like weddings and childbirth, are still actively shared. Shares are also happening more and more privately – through email, Facebook Messenger and WhatsApp. Minkjan referred to this type of sharing, contrary to the more public sharing on walls, as "dark social".
Summary content:
1) Businesses on Snapchat
2) Facebook Campaigns
3) Instagram tips
1. WTF SHOULD BUSINESSES DO WITH SNAPCHAT?
In a session focused on Whatsapp and Snapchat, Guido Smit explained in great detail how the bank ABN AMRO used these platforms. Smit, being the company's Dialogue Manager said that social media had been completely adopted in the organization. As many as 30 accounts are managed on different platforms by employees in five different departments. They have developed a comprehensive strategy to get efficient work processes in social media. But how does a bank use Snapchat?
Smit argues: -We need to respond to the demands of the customer coupled with the shifting market, and new technologies. The way this is developing, most of the questions that used to be answered on the phone by customer service, will eventually be done through social media and web. Our goal is to answer 99% of all incoming questions 24/7. Also on Snapchat. ABN AMRO shares content on Snapchat in three ways: 1) Asking questions, 2) Sharing great visuals, and 3) Sharing serious financial content in a more fun way.
Over the past 4 months, Guido has run their Snapchat as a pilot test, and shared the following results:
627 followers

315 responses

96% watched the snaps completely

181 mentions on social (buzz)
Guido ended the talk with four take-aways:
Adjust your messages and visuals to each platform; what gives you the best results on Facebook, doesn't automatically work on Snapchat.

Don't screenshot and share snaps that you've received; it's against the unwritten laws of Snapchat to save snaps.

Look for interaction; ask questions, and nurture the dialogue with your followers

Using Snapchat for marketing, you have to beware of some technical hurdles. For example 

Snapchat has no tools for businesses, and it takes an actual person with a smartphone to answer. Plus only 1 person can log into your business account at the same time.
2. EFFECTIVE FACEBOOK CAMPAIGNS 
Alexander Grimstad, vice president of marketing at 24SevenSocial lead the audience through some recent case studies, to show how simple and effective a Facebook campaign can be set up and run. He shared how a number of 24SevenSocial users have achieved great success based on some key success criteria.
Success criteria
Launch campaigns on a cyclical basis. When you only sporadically launch campaigns on Facebook, and think about these more as one-time campaigns, both engagement levels and organic reach drop, leading to lower CTR (click through rate). Moreover, the real potential in Facebook marketing is in using data, and building audiences that you work with again and again, to make your targeting increasingly precise.

Setting goals. Grimstad pointed to the importance of this, and to key questions such as: -Why do you do what you do on Facebook, and what's your desired outcome of the campaign?

Look for ways to simplify your work. With more efficiency in your work, you shorten the route to your goal. Look for tools that simplify your work.

Tweak and repeat your successful campaigns, and discontinue

un

successful campaigns. Beware that Facebook ad campaigns can take several hours – even days – to work in the optimal way which gives you the true basis for making the right conclusions. Basing conclusions on too small samples – or too short time ranges may distort your results. Cost per click and cost per conversion may also fall after some time as the campaigns "get smarter".

Be smart with your target audiences. You've got every opportunity to target specifically on Facebook. Using Custom Audiences to target based on your website traffic, is one great way to do this.
In addition, success is not only about good (paid) content, but also about how you manage your Facebook Page and provide customer support via your social media channels. -Customer service shouldn't be seen as a pain in the butt, laughed Grimstad. He preferred calling customer service Customer Success, as they've done at 24SevenSocial. For providing the best service through Facebook, he shared four tips:
Four Facebook customer service tips
Answer

everyone

, quickly and in a pleasant way. The first point was about actually not answering

everyone

. -Actually not spending your time on answering trolls, haters and spammers. As he said, you simply cannot answer everyone if you have one ad, and 140 comments on the ad. At least not if you also have other stuff to do that day. He proposed using automated answers, and promoted 24SevenSocial's Troll Control-solution to automize how you handle your Facebook Page

Simplify wherever you can. For the frequently asked questions that every Facebook Page gets, Grimstad proposed saving your best answers, and using them again and again.

Prepare for crisis scenarios. Think about in advance what kind of "storms" may hit your brand and your Facebook Page, and how you now – all relaxed and way in advance – would like to respond to it. Then when the crisis comes, you're well prepared.

Improve workflows. There's a great potential for improving the workflow between your product developers, and the customer success team. At 24SevenSocial about half the features we launch are based on direct feedback from customers. This is possible because of the close dialogue between our product team and the customer success team. There's huge potential in this for companies.
3. 9 IDEAS ON HOW YOU CAN GROW FASTER ON INSTAGRAM
Kirsten Jassies, is an independent Social Content Strategist with focus on Instagram. She shared nine ideas for how to grow faster on Instagram. In her keynote she also talked about the recent arrival of the Instagram algorithm, and how this makes engagement so important. The higher your engagement rate, the higher your relevance score, and thus a high probability that your content will be prioritized in the Instagram feed. So how could your company grow on Instagram?
9 Instagram tips
Style Guide. Settle on a style for your content, and be consistent.

Frequency and timing. Use your Instagram insights to understand more. One post per day is sufficient – unless the content is very relevant. The best time to post is generally in the morning, or between 20:00 and 23:00

Be social. Follow relevant accounts, and hope for them to follow you back. Like as much as possible, and respond to both followers and non-followers. Start conversations with asking questions, and try to get other users and accounts to mention you in a message or tag.

Goal. What's the company's purpose on Instagram? And what do you want it to do for you?

Improve Profile Text. Make sure that your company description (profile text) matches with your Instagram strategy.

Use hashtags. Instagram users search for hashtags. You want your message to get as much attention as possible with your target audience, so use relevant hashtags in your posts.

'Claim' hashtags. Try to be identified by your hashtags. Over time, your audience might come to identify you with 'your' hashtags.

Work with influencers. Look for ways to reach your target audiences through influencers – people or Instagram accounts that have big followings. This gives a human aspect to your Instagram promotion, rather than just your own company updates.

Advertising. Advertising is tricky on Instagram. "Follow our actions" doesn't work. Actions should be relevant and above all human.
Jassies concluded the session with a quote that every marketer should know: "It's not about being on social, but being social."
The final remarks of the Congres Facebook Marketing 2016 concluded that Facebook still dominates, but it was clear through the different sessions, that Facebook may come to serve different functions in the near future. We as marketers must not underestimate the power of new and emerging platforms.