What could brands do in today's global extraordinary situation?
No person or business has been prepared for today's global situation. Life has been affected by the COVID-19 pandemic and undoubtedly changed. Being in an unknown situation businesses need to adapt way quicker than they could imagine.
We want to offer some recommendations to ease you into planning your Brand communication with customers. People might be in a lockdown, but they are definitely eager to hear from you. The real questions are 'What do my customers want to hear and how?'
Let's start with a brief overview of marketing research held in the UK and Germany in the last week of March.
What is clear is that people are BORED. The usage of the word 'bored' in Instagram interactions has increased by 918% in March. We are talking about a hundred million uses of the word. And this naturally led to growth in digital content consumption.
News growth is around 20%
Movies – between 20% and 35%
Other entertainment – between 10% and 30%
Together with higher digital content consumption, observation shows that there is a change in the user-generated content in social media. Being at home people are limited in activities. And this is clear from the increasing volume of the words 'Home cooking', 'Home fitness', 'Chores' and 'Breadmaking' in Instagram public posts by users.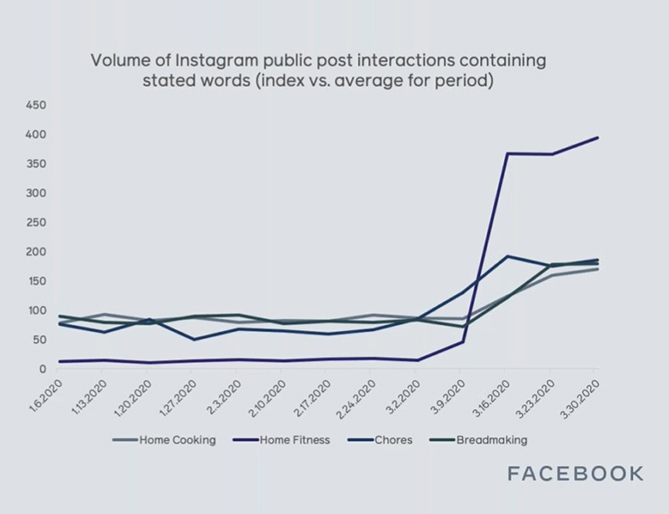 What can you do as a brand?
Be helpful. Create and publish content that will be useful. You can share tips and tricks on how to fight boredom while staying in social isolation. Go live on Instagram or hold a live Instagram session with your brand ambassadors. Share free digital resources that can help your users have an interesting day – podcast, printables, etc. Hold a Q&A session. You have many opportunities to connect, engage and help.
Create desire. Restrictions for public gatherings and physical distancing don't decrease people's desire to plan fun activities. According to the research, clients are not canceling but only postponing their wishes for traveling, vacations, home appliances or car purchases. So, publish inspiring content, pre-order promotions or showcase the best of your product/service.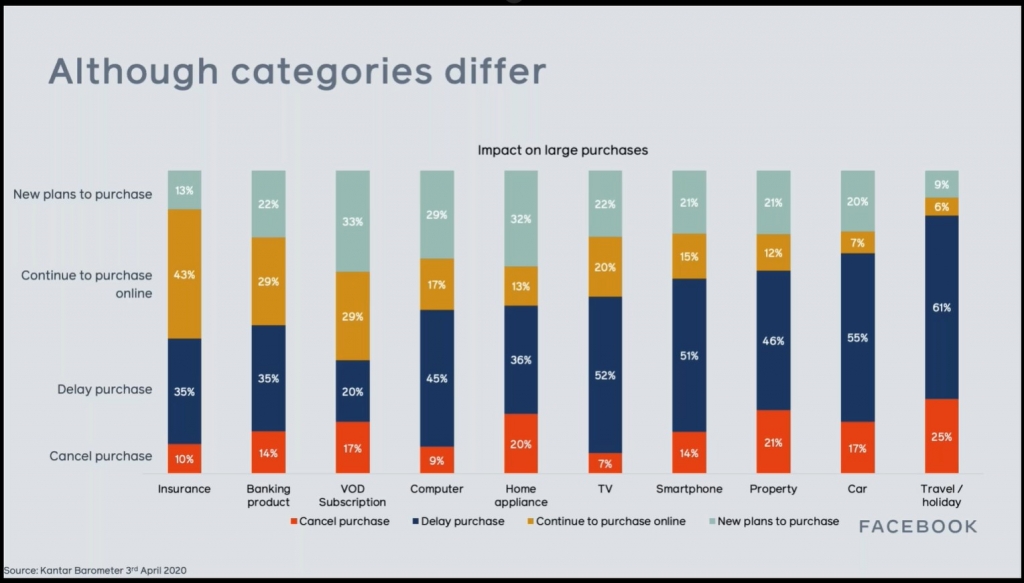 Carry on advertising. With the current situation, more people are turning to eCommerce. Shopping online lets them minimize physical contact and get their favorite products when the physical shops/establishments are closed. So, let your customers know that you are available. Be proactive in communication, highlight all safety measures that you have taken, craft a story around the 'stay at home' situation. Advertise with caution and always have in mind the 'new normal'.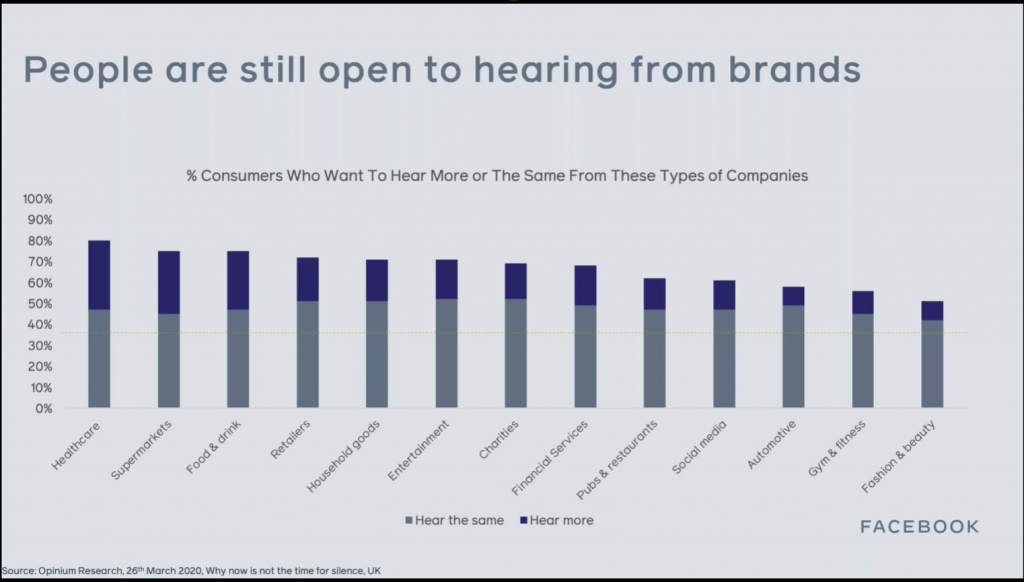 Long-term impact. Sooner or later people will return to their regular routines but with a new mindset. They will go back to those that have been proactive in global efforts to fight the pandemic and acted with compassion and care, not the opportunistic ones. Consider this and don't be shy to share how your brand is helping the society to recover and rebuild and try to involve your audience.
Stay connected. Online communication is the primary choice of communication today. Unfortunately, it is nearly impossible to be online 24/7. So, be practical and set auto-answers. Show customers that their requirements are important and they will be answered soon. Examples, you can use:
Hi! We're ready to take your order! Call us or message us here.
Hi, thanks for your message. Our retail store is closed but we are still taking orders online! Send us a message or check out our website.
And you'll find more here.
Whatever strategy you have adopted, remember to TEST, TEST, TEST and to create feedback loops for your brand. Use different creatives for different target groups, keep a close eye to the insights and make regular fine tunes. If you are in doubt or having difficulties you can always rely on 24SevenSocial's team to help you. We'd love to hear from you and to chat about how you adapt your brand's social media communication during the coronavirus emergency situation.