At 24SevenSocial we value your precious time! We are quite aware that you invest plenty of it in your social media marketing campaigns and we are here to help you optimize the process.
Our team is extremely happy to present to you our latest update called
"Feed Ads"
The 24SevenSocial team is working around the clock in order to make you happy
Based on our analysis, "Feed Ads" –  this handy new feature – has emerged to fill in a gap in our ads solutions portfolio. It is based on something as common as web feeds from the websites and blogs people are constantly using.
WordPress, for instance, has it out of the box. If you want to advertise the items (such as articles, products, etc.) that you publish, 24SevenSocial Feed Ads is the tool you need. It's perfect for blogs, media or newspapers companies, small real estate agencies, car dealers and similar business. You should simply connect the web feed(s) to 24SevenSocial, create predefined rules (feed campaign(s)) and 24SevenSocial will automatically run ads, based on the criteria in these feed campaigns.
Stay with us because we are going to explain it further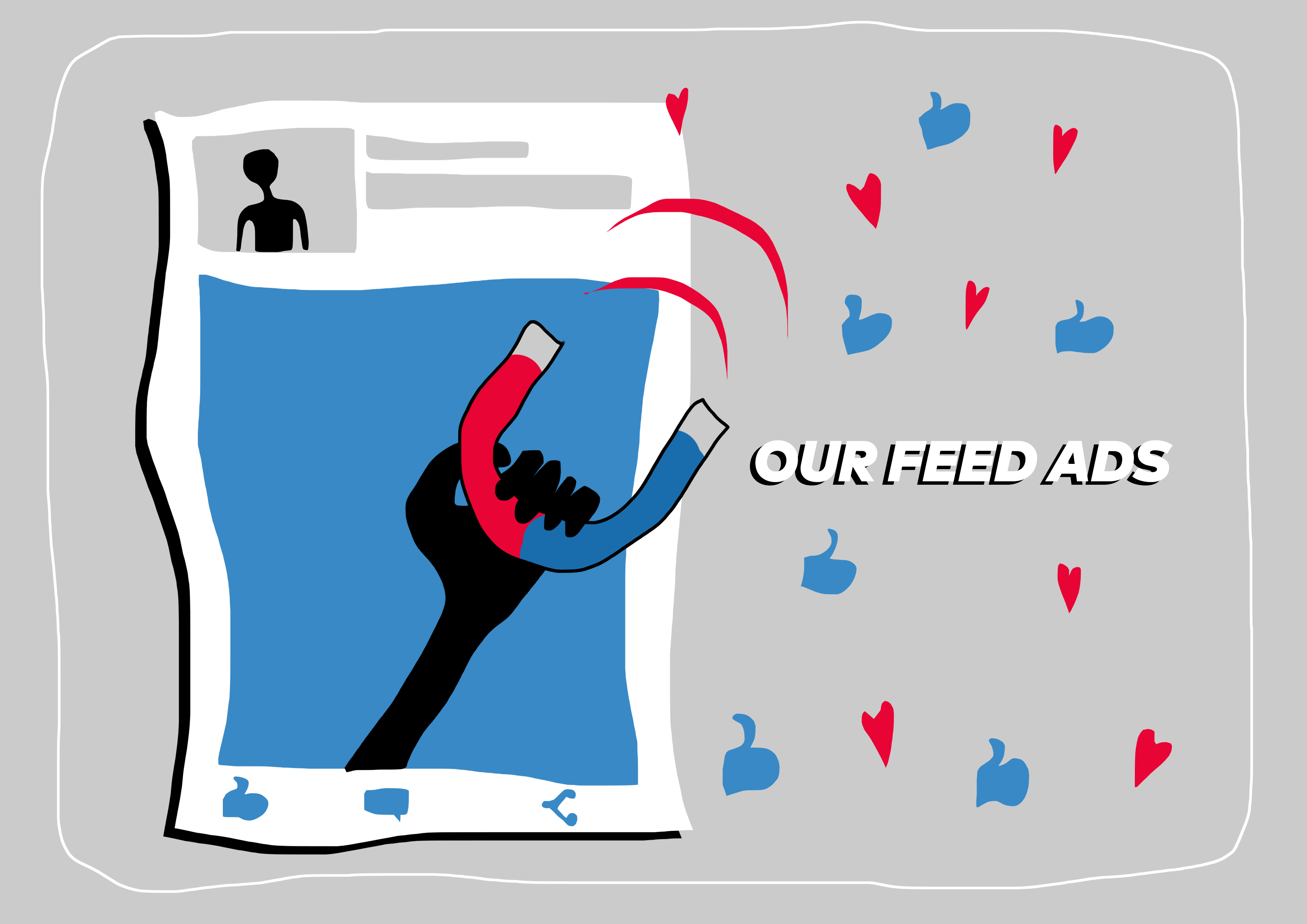 Let's pay attention on what the term "feed" actually means. According to Wikipedia feed is "A type of web feed which allows users to access updates to online content in a standardized, computer-readable format". Thanks to this standardized format, 24SevenSocial maps the required elements in order to do magic later on and minimize your efforts.
24SevenSocial's "feed mapping" is the second thing you need to know in order to connect your feed to Feed Ads. Basically it represents the connection between your feed fields and Facebook required fields to run ads as link posts. You have do it manually but using our guidance makes it a piece of cake.
Another great thing is that once you set all your campaigns based on the web feed, they start running automatically and all you have to do is to keep an eye on them and make some changes only if you want to. It's just as simple, straightforward and time-saving!
Using the "Feed Ad campaigns" represents your intention transformed in rules to automatically create ad campaigns. In other words, you need to go through a few steps and build logical rules for the items you want to advertise. Once it's done – everything starts flowing fully automatically from now on! In order to run your campaign by definition you have to set correctly the brand you are going to advertise; type of the ad; set the time length of the campaign and, of course, where do you want it to be served. Once you did all that, the only thing you have to do is to monitor it!
A large field of use
The "Feed Ads" solution is suitable both for the seasoned marketeers and just starting businesses.
A really interesting fact is that it could turn into a connecting point between different businesses. How? It allows you to advertise any web feeds out there on your own Facebook pages. Even if these web feeds are not connected directly with you and your business.
This killer feature within the feature is the next level advertising!
We think so, because that way you could attract new customers and expose cross-business to various groups of people. For instance, your business owns a super cool and famous burger joint that has more than 10K Facebook likes. Оn the other hand one of your closest friends owns an e-commerce website for craft chili sauces and gourmet supplies and he wants to bring to light his business to a new audience. What should you do? Immediately launch 24SevenSocial "Feed Ads" tool and connect his product to your exquisite and targeted audience. Once you set your ad, you could use the "carousel" setting, which is going to help you with the introduction of different craft sauces from his collection every weekend, for instance. Once you defined your settings this carousel will advertise everything you want automatically. It's great, isn't it?
We believe in the connection with you – our customers
Our team is in constant dialog with our customers and we hear your voice out loud! For that reason we are one of the top social media management tools out there. Using our service unlimited number of apps and landing pages can be launched. Messages can be planned for one or more Facebook pages and real-time analysis and benchmarks can be created in no time.
As Lillach Bulliock once said: "24SevenSocial is like a Swiss army knife for Facebook marketing. It allows you to pinpoint your exact target group with your message, create engagement, and also measure the results. It really is a complete all-in-one solution and an ideal Facebook marketing platform."
Our complex but easy-to-use system for setting up and managing Facebook Ads saves you time and gets you better results. Most importantly, it also saves money for anyone who wants to communicate directly with their customers on Facebook. You are able to manage the entire flow of communication on your Facebook Pages, and combine it with contests and campaigns. Eventually you can analyze the data, come up with conclusions and optimizations, which inevitably leads every customer to the path of success!
As our customer you already know that 24SevenSocial set of tools provides a wide variety of features which are suitable both for people with near-to-zero experience and for large marketing companies using experienced teams of professionals. This is one of the reasons why clients and partners love us – our flexibility and expertise! Every customer could easily monitor their competitors, analyze engagements, use our advanced system of tools and to optimize its ads for utmost outcomes.
Our goal is to give knowledge and support to all of you, digital marketers out there who are seeking diversity and perfection. In the end we are trying to be the complete Facebook marketing solution and we are steadily paving the way to fulfilling that goal.
_
PS: If this article has reached you with an ad it is probably because of the "Feed Ads" solution you already know about 😉
(https://24sevensocial.com/?s=feed)